Bryans Have Banner Year in 2011

Add 8 Titles, Including 2 Grand Slams, & More...
Bros. Continue to Build Legacy
2011 was a banner year for the Bryans with eight titles, including two Grand Slams, and more records shattered.
Kicking off the year with their third consecutive and 10th Grand Slam Championship at the Australian Open, Bob and Mike defeated Mahesh Bhupathi and Leander Paes, 6-3, 6-4 and increased their lead at the No. 1 ranking. The Bryans have raised the championship trophy in Melbourne five times.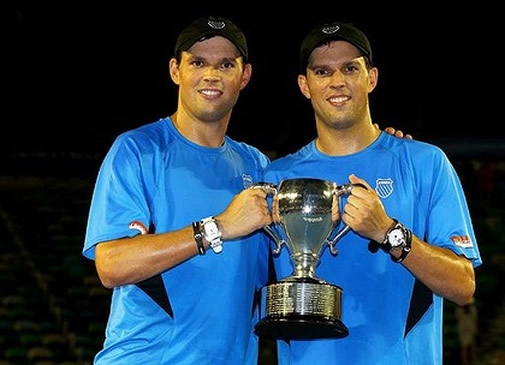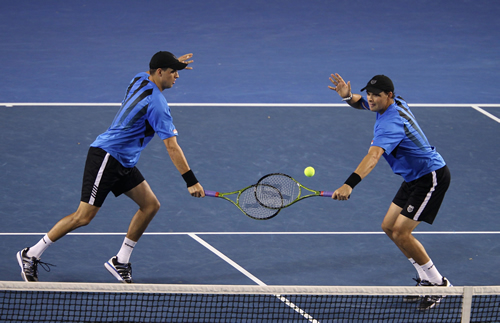 Bob and Mike scored their fourth consecutive US Men's Clay Court Championship in Houston defeating fellow Americans Sam Querrey and John Isner, 6-7(4), 6-2, 10-5. They have earned six titles in Houston and have won 16 straight matches going back to 2007.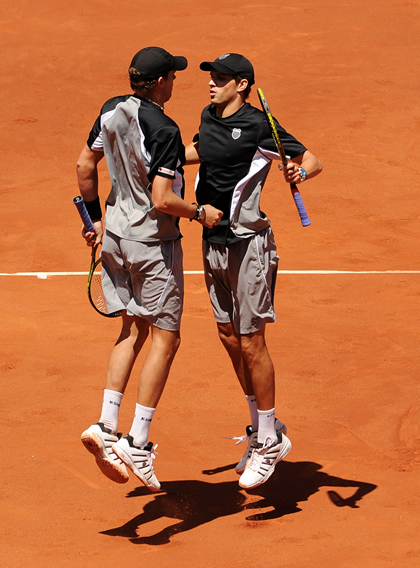 In Monte Carlo the following week, Bob and Mike won their second Monte
Carlo Rolex Masters crown with a 6-3, 6-2 victory over Ignacio Chela and
Bruno Soares. They also won in 2007.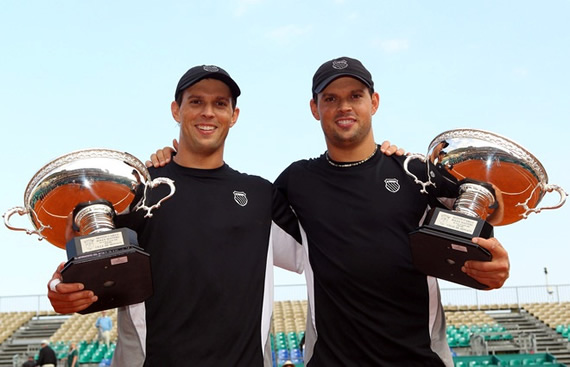 At the 10th Mutua Madrid Open, Bob and Mike destroyed Michael Llodra and Nenad Zimonjic 6-3, 6-3 in just 56 minutes for their fourth Madrid championship and their 19th ATP World Tour Masters 1000 title.





In Paris, the ITF named the Bryan Bros. "Men's Doubles World Champions" for the seventh time in eight years. The Bryans arrived at the ITF Champions dinner in tennis attire having just completed their match at the French Open.


At Queen's Club, in a pre-Wimbledon warm up which augured well for the grass court season, Bob and Mike repeated their Australian Open results with a finals win over Bhupathi-Paes in a hard-fought match, outlasting the formidable Indian tandem 6-7(2), 7-6(4), 10-6. The Bryans have won the AEGON Championships four times.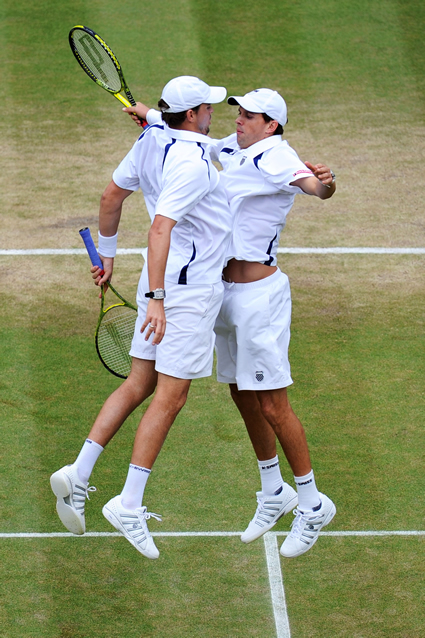 Winning their second Wimbledon Championship, Mike and Bob contested
the tournament in one week instead of two due to rain. This gives the
Bryans 11 Grand Slam titles, tying them with the Hall of Fame team of Todd
Woodbridge and Mark Woodforde for the Open Era record. The brothers
out played Robert Lindstedt and Horia Tecau in straight sets 6-3, 6-4, 7-6.

The Bryans had two epic comebacks. In the third round down two sets to
one to Simon Aspelin-Paul Hanley, they battled back to win 16-14 in the 5th
set in a match lasting two days. In the semis, trailing Michael Llodra-Nenad
Zimonjic 1-4 in the fifth set, the Bryans staged a miraculous comeback to
win 6-4, 6-4, 6-7, 6-7, 9-7.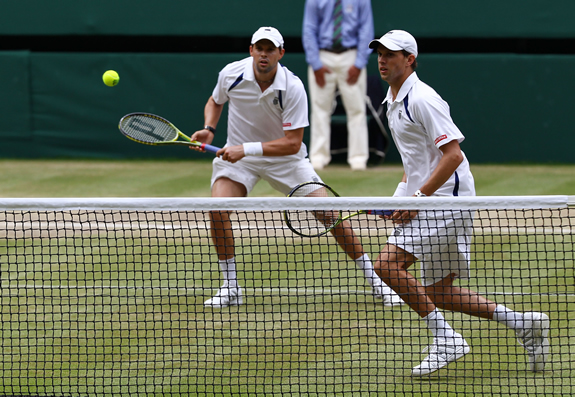 Immediately following their Wimbledon win in July, in Davis Cup action in Austin, TX against Spain, Bob and Mike provided the key point to take the tie to Sunday, beating Marcel Granollers and Fernando Verdasco 6-7(3), 6-4, 6-4, 6-4, to score the only win for the American squad. Now 18-2, the Bryans hold the Best Doubles Team Win-Loss record in US Doubles Team history.

During the Legg Mason Tennis Classic in Washington, DC, Bob and Mike were awarded a grant to the Bryan Bros. Foundation in the amount of $10,000 from ATP ACES for Charity, which is the ATP World Tour's charitable arm. The grant was given in recognition of the brothers' fundraising efforts and dedication to improving the lives of at-risk youth in Southern California and throughout the world. Ten foundations led by ATP players received grants in the inaugural year of the program.
Mike and Bob used their clever, gifted hands to finish their rewrite job of milestones on their own resume, winning their 700th career match by beating Spaniards Feliciano Lopez and Fernando Verdasco, 6-3, 7-6 (3), in Montreal at the Rogers Cup.




In Vienna, Bob and Mike defeated Juan
Del Potro and Radek Stepanek 7-6(10),
6-3 for their first title at the Erste Bank
Open. They became the first American
tandem to win since Mel Purcell and Tim
Wilkinson prevailed in 1987.

Winning their third back-to-back series of championships in 2011, Bob and Mike took home their 75th career title in Valencia beating Eric Butorac and Jean-Julien Rojer 6-4, 7-6(9).



Bob and Mike closed out the year by breaking the all-time record held by John McEnroe for weeks at No. 1 in doubles when they hit 271 weeks at the top of the rankings on December 12. Heading into the New Year on January 2, the Bryan Bros. remain at No. 1 for 274 weeks---that's more than 5 years cumulatively atop the ATP world rankings!



Mike and Bob were honored not once, but twice, at the year-end ATP World Tour Championships in London. First, they received the ATP Fans' Favorite Doubles Team award for the seventh year in a row---all the years it has been voted on---and then received the coveted year-end No. 1 team trophy for the seventh time---both all-time records.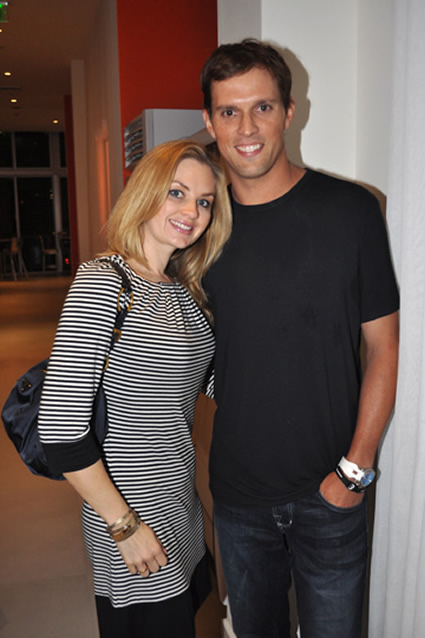 It was a win-win year in 2011 both on and off the court for the 33-year-old
twins. Bob and wife Michelle are expecting a baby in early 2012, and Mike
and long-time girlfriend Lucille Williams became engaged.