Bryans Lift 90th Trophy


The Bryan Brothers are headed to Wimbledon with an 18-match win streak as they look to capture a 'Golden Bryan Slam'.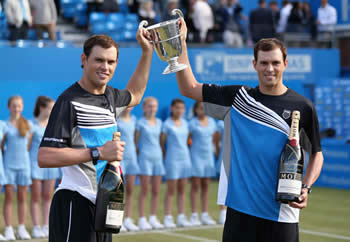 The top-ranked pair picked up their 90th-tour level title on Sunday, turning the tide to deny fourth seeds Alexander Peya
and Bruno Soares 4-6, 7-5, 10-3 in the final of the Aegon Championships in London. The Bryans added to their run
of trophies, having triumphed in Madrid, Rome and Roland Garros coming into the grass-court season.
"Like they've been doing all year, Bruno and Alex played really solid tennis and we had to hit some great shots at the end
to get the win," Bob Bryan said. "It'll be nice to put the racquets down for a couple days and recharge the batteries
for Wimbledon
"Special thanks to Chris Kermode and The Queen's Club for putting on another fantastic event. And Happy Father's Day to
our awesome Dad back home in California. He is the reason we fell in love with this game so many years ago."
The Bryans capitalised when it counted most, breaking the Austrian/Brazilian duo to take the second set. The No. 1 seeds then ran away with the Match Tie-break to clinch their fifth crown at The Queen's Club. The Bryans improved to 4-0 against Peya and Soares this season.
The American twins have won eight titles in 2013, posting a 44-6 record. They became the first team to qualify for the season-ending Barclays ATP World Tour Finals, held at The O2 in London. Peya and Soares are ranked second in the Emirates ATP Doubles Team Rankings and dropped to 2-2 in title matches this year.
"It was a high quality match by both teams and we feel fortunate that we played our best tennis down the stretch," said Mike Bryan. "To win our eighth title of 2013 and the 90th of our careers is a dream. Our confidence is high and we're hoping to carry that into Wimbledon."

- Courtesy of ATP