Bryans Capture Third Season Title in Memphis

Courtesy of ATP Staff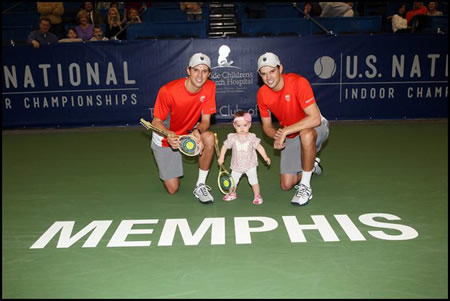 World #1 pair Bob and Mike Bryan overwhelmed countrymen James Blake and Jack Sock
6-1, 6-2 to win their third U.S. National Indoor Tennis Championships title on Sunday in Memphis
. The top seeds converted two breaks in each set to seal the victory in just 42 minutes.
"We played great tennis all week and were even better in the final, which is nice," said Bob Bryan.
"We haven't put up scores like this in a while. It was fun to get it done and not sweat through a
match tie-break. It was fun playing against two of our friends, too."
The Bryans lifted their 85th team trophy and third this season. They began the year with a 10-0
record, triumphing at Sydney before winning an all-time record 13th major team title at the
Australian Open. The American twins won their first title in Memphis 12 years ago and improved
to a 24-5 event record, having also captured the crown in 2004.
"It was great to be back where we won our first title," Mike Bryan said. "Bob and I couldn't have
played any better. We love coming back here. And to have three titles in four tournaments so
far this season is amazing."

UPCOMING BRYAN BROS. EVENTS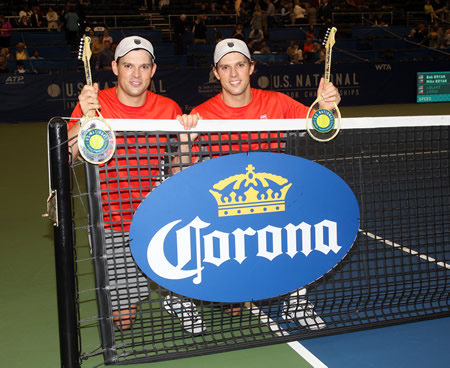 March 4: Mike and Bob will be taking on Novak Djokovic and Pete Sampras in a sensational doubles
match at Pauley Pavilion on the campus of UCLA. Other top pros playing that night include Mardy Fish,
Tommy Haas, and James Blake. The LA Tennis Challenge is hosted by Justin Gimelstob and Fish,
and Coach Bryan will be helping with the Clinic and Pro Am before the evening matches. For
more information about this star studded tennis event visit www.LATennisChallenge.com

March 5: The Bros. will once again be playing in the popular 9th Annual K-Swiss Desert Smash
tennis exhibition at La Quinta, headed up by their pal Ryan Macaulay. For more information visit
http://desertsmash.com

March 5-10: Mike, Bob, and Coach Bryan will all be involved in Chadwick Byrd's Tennis Ventures trip
to Indian Wells. Lindsay Davenport and Justin Gimelstob will also be joining in some of the Fantasy
Camp workouts and matches each day and, of course, there will be great group tickets to the
BNP Paribas Open at Indian Wells. More information is available at www.tennisventures.net.
Anyone interested should contact Chadwick Byrd at chadwick.byrd@tennisventures.net
or 1-877-743-0043.

March 7: The Bryan Bros. Band will perform on the grounds of the BNP Paribas Open at Indian Wells on the Food Court Pavilion Stage from 5:00-7:00PM. Former American Idol star Michael Johns will be the lead singer, and Jim Bogios, the famed drummer of the Counting Crows, and musical standout George Holdcroft of Hollywood will join them. Special thanks to Assistant Tournament Director DeeDee Felich for all of her help in hosting this gala musical event.

March 8: BNP Paribas Open at Indian Wells

March 18-20: Mike and Bob will again headline the Miami Pro Am, featuring the top 14 doubles players in the world. Chris Jeffries will host the event that will take place on the Ritz-Carlton Hotel tennis courts. Other doubles stars include Daniel Nestor, Rohan Bopanna, Aisam Qureshi, and Mark Knowles.

March 22: Sony Open at Key Biscayne

April 5-7: Davis Cup Quarterfinals vs. Serbia in Boise, Idaho

April 8-14: U.S. Clay Court Championships at the River Oaks Country Club in Houston, Texas

April 11: The Bryan Bros. Band, featuring Michael Johns, George Holdcroft, and Jimmy Wolff will be playing the Thursday Night Party at River Oaks