Bryans Capture Fifth Madrid Title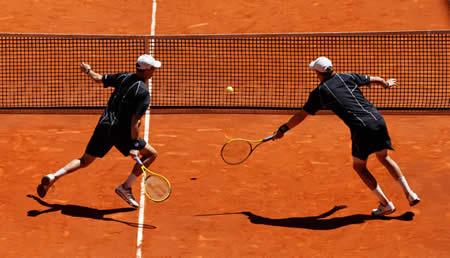 Bob Bryan and Mike Bryan their fifth Mutua Madrid Open doubles title on Sunday. It was
their 87th career trophy and fifth crown of the 2013 ATP World Tour Season.

The top seeds added to their 2006-07, 2010-11 trophy haul with a 6-2, 6-3 victory over seventh
seeds Alexander Pey and Bruno Soares in 58 minutes. They lost just six of their first
service points and converted four break point opportunities for their 30th match win of the year.
"It feels great to get another title here in Madrid," said Bob Bryan. "It's been a nice
clay-court season so far and we're looking forward to two more big events on the dirt."

The Bryans, who improved to a 23-17 record in ATP World Tour Masters 1000 finals,
shared $256,812 in prize money and earned 1,000 Emirates ATP Rankings points.
"Hats off to Bruno and Alex on a great tournament and a strong start to the year," said Mike Bryan. "We had to play really sharp to beat this team and hopefully we can all square off in many more big matches."
"The motivation is to do more of it," said Bob Bryan. "We love working hard and getting the pay-off. It still hurts to lose and we hate losing more than we love winning. We're 35 and we're having fun. We have great jobs, we're always playing in the sun and we want to do it as long as our bodies hold up."

- Courtesy of ATP