Bryan Brothers Clinch First Indian Wells Title

Acknowledging that they had a little bit of luck, the top seeds Bob Bryan and Mike Bryan won their first BNP Paribas Open title,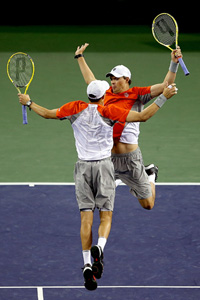 rallying to defeat Treat Huey and Jerzy Janowicz 6-3, 3-6, 10-6 in 69 minutes, just as St. Patrick's Day arrived in the East.

The American twins won 77 per cent of points on serve, en route to their record 86th title as a team.
"It feels really good to finally win our home tournament in Indian Wells. I thought we played a great match tie-break.
It was kind of meant to be after being down match points. We came through in three super breakers, so we had a little
luck on our side, which was nice," Mike Bryan said.
"There was a sense of urgency to do it now. Back when we lost the final in 2003, I thought we would have a ton of shots at it.
We were a bit unfortunate and it didn't go our way. As the heavy favourites, I thought we played good, especially against a
big-serving team," added the 34 year-old.
Bob Bryan described the victory as satisfying. "Winning in Australia was one of our biggest goals of the year and probably our next
goal was to win this tournament, since it has eluded us over the years," he said. We've always had friends and family here, so
it was nice to finally be able to give them this gift. They've seen some heartbreaks, so it's great to win for them."
The left-handed Bryan said the 2013 season had begun well. "We've won a lot of close matches and the luck is going our way right now. There are many big tournaments coming up and the schedule is thick for us through Wimbledon, so we've got to stretch out, eat the right food and get back on the horse in the next few days."
They improved their win-loss record in ATP World Tour Masters 1000 finals to 22-16. It's their fourth title this season, behind the Apia International Sydney, Australian Open and the U.S. National Indoor Tennis Championships in Memphis.
- Courtesy of ATP