Bryans Capture Fourth Cincy Crown and 25th Masters Title

Bob Bryan and Mike Bryan added yet another trophy to their collection with a 6-4, 4-6, 10-4 victory over the Spanish duo of Marcel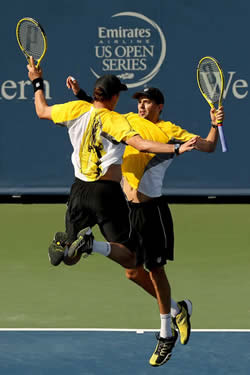 Granollers and Marc Lopez on Sunday, claiming their fourth Western & Southern Open title (2003, '08 and '11). The win gives them
10 titles in 2013 and a total of 92 as a team.
The Bryans improved to 28-1 since early May, when they won consecutive titles in Madrid, Rome, Roland Garros, Queen's Club
and Wimbledon, before falling in the quarter-finals last week in Montreal. Their 25-match winning streak during the span was the
longest of their careers.
"It feels amazing to win our 4th Cincinnati Masters," Mike said. "We had great support from the crowds all week and our games improved
with every match. Today was a battle against a very tough team and we feel fortunate that our shots fell on the big points."
Owners of ATP World Tour Masters 1000 titles at nine different events and 25 overall, the World No. 1 tandem will take home $180,800
and 1000 Emirates ATP Ranking points with the victory.
The Americans will be vying for the calendar Grand Slam at the upcoming US Open, where they are the
defending champions.
- Courtesy of ATP