Bryans Capture Third Sydney Crown
Courtesy of ATP staff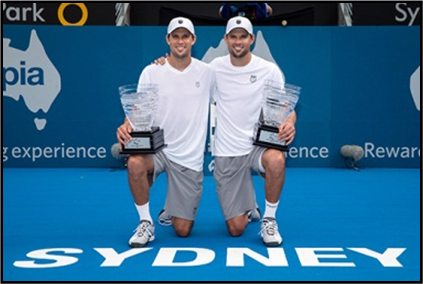 World #1 duo Bob Bryan and Mike Bryan won the Sydney title for the third time on Saturday as they
beat new pairing Max Mirnyi and Horia Tecau 6-4, 6-4.
"It's nice to start the year with a title especially in a tournament with such a tough field," said Bob
Bryan. "Australia has been good to us over the years and we hope this win can give us momentum
going into Melbourne."

The Americans added to titles in 2009 and 2012 as they beat the fourth seeds in 67 minutes.
The Bryans broke serve once in each set and won 75 percent of their service points.
"Today's match was very close," said Bob Bryan. "Horia and Max showed this week that they will be
a very formidable team. We hope to have the opportunity to play them in many more big matches
during the coming years."
"It feels great to start the year strong," said Mike Bryan. "We love playing here. We've been
coming down under since 2000 and to win here against eight of the Top 10 teams feels great. We played some great tennis. We just snuck out the first round; we were playing with the house chips in that game. But we pulled some clutch tennis out."

The 34-year-old Bryans improved their Open Era record title haul to 83 trophies (83-44 record in finals). Last season they compiled a 7-3 record in finals, highlighted by winning their 12th Grand Slam championship at the US Open and winning the Gold Medals for the USA at the London Olympics. They finished the year at #1 for a record setting 8th time and they were also voted the Fans Favorite Doubles Team for the 8th straight year. At the upcoming Australian Open, they will attempt to lift the trophy for the 6th time and win an all-time team record 13th major title.