Bryans' Victory Gives Mike 100 Titles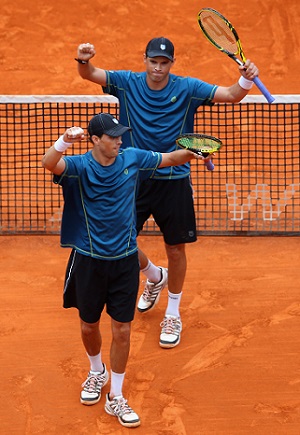 Mike Bryan is the first player to win 100 tour-level doubles titles after he and twin brother Bob Bryan triumphed at the Monte Carlo Rolex Masters on Sunday. The Americans captured their 98th team title as they defeated Ivan Dodig and Marcelo Melo 6-3, 3-6, 10-8 in 72 minutes.
"It's amazing to hit triple digits," said Mike Bryan. "It's a great milestone to say that you have a hundred, to be the first player to hit a hundred titles. Kind of snuck up on us pretty quick. Last few years we've been really hot. We always wanted to beat the Woodies' record of 61. Then trying to clip Todd Woodbridge's 83 titles. All of a sudden I'm at 99.
"It will feel a lot better when we do it as a team. We've always looked at our career as team titles, doing it together. That's the huge goal for this year, to do it together.
Bob added, "Hopefully [we'll do it] before [Roland Garros]. We've got two tournaments or three coming up before the French. It's incredible to see what he's done. I guess I'm knocking on the door."
The Bryans won their fifth title in a row and extended their winning streak to 21 matches unbeaten. The 35 year olds have not lost since the Memphis final in February, taking in titles in Delray Beach, Indian Wells, Miami and Houston before arriving in Monte-Carlo.
"It's been a great run," said Mike Bryan. "I think we've done it once before in our career where we won five in a row. That was last year. We're playing well, really confident. Couldn't ask for a better time to get hot. Three Masters [1000s] and two in the States. It's great for the confidence for the rest of the clay season. What you want to do is build towards the French Open."
After losing the first set, third seeds Dodig and Melo fought back, breaking the Bryans in the seventh game of the second set. The Croatian/Brazilian pair then saved three break points to level the match and force a deciding tie-break. The Bryans let slip an initial 4-1 lead, but came to match point at 9-8 and converted as Dodig double faulted.
"It was another tough match against a great team," said Mike Bryan. "We've had a lot of battles against those guys. They've been tough on us recently. Came down to a couple of points in the breaker. The 7-6 point was probably the key point. I clipped the line, hit a nice shot over the middle."
The California natives triumphed at this ATP World Tour Masters 1000 clay-court tournament for the fourth time, having previously lifted the trophy in 2007 (d. Benneteau/Gasquet), 2011 (d. Chela/Soares) and 2012 (d. Mirnyi/Nestor). The Bryans lead the ATP World Tour with 29 ATP World Tour Masters 1000 titles together.
-Courtesy ATP
An Important Request from Mike and Bob:
Dear Family, Friends and Supporters,
So many of you are so nice to send us positive words of congratulations after each title we win and we are always very grateful. Instead of that this time, can we ask you to kindly help and support us in another way?
The Bryan Brothers Foundation was nominated for the Most Valuable Philanthropist competition. The winner gets $100,000 to donate to their charity of choice. If we win, all the proceeds will go directly to Bryan Brothers Foundation.
This is a social media competition that is measured by votes. Anyone can vote 3 times per day.
Here is the link: http://givkwik.com/asu
If you scroll down and click on our picture, you will have the option to vote and sign in to any of your available accounts (Google, Twitter or Facebook). Or you can even register for a Givkwik Acct. It is easy and just takes a second. Once you have signed in, you can vote two more times.
The Bryan Brother Foundation is currently in 2nd place! Please vote 3xs a day consecutively to support the work we do with deserving kids and kids programs in Ventura County, So Cal and across the nation!!
Big thanks,
Mike 'n Bob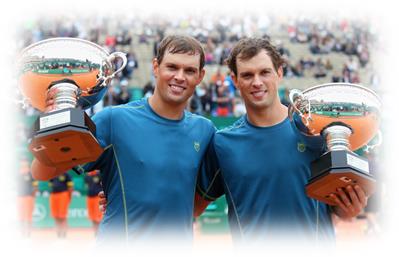 Fast Facts:
*** Other wins this past week included: def. Lukas Rosol-Radek Stepanek (Czech Republic), 6-4, 7-6 (4); Julien Benneteau-Edouard Roger-Vasselin (France), 6-1, 6-2; Daniel Nestor (Canada)-Nenad Zimonjic (Serbia), 7-6 (5), 6-3; and Ivan Dodig (Croatia)-Marcelo Melo (Brazil), 6-3, 3-6, 10-8.
*** The Bros. have become good friends with Prince Albert of Monaco through the years and have spent time at the Palace there in Monte Carlo and he has come out to root them on in all their matches. He was surprised and thrilled when Mike and Bob gave him their Bowls for winning the title on Sunday.
*** Mike and Lucie will now journey to England and Wales for some rest and relaxation and to visit Lucie's family and friends. While in London, Mike will be going to Buckingham Palace to hit and work with some of the tennis playing members of the Royal Family.
*** Bob is happy to be flying home to Sunny Isles today to be with Michelle, Micaela (aka "Bubs") and little Bobby Jr.
*** Mike and Bob are fired up for the Tennis Fest at the beautiful Spanish Hills Country Club - - - their home club - - - on Saturday, July 19th. The Pro Am will be in the morning with the Exo slated for noon. Dave McKinney always does an amazing job for this fund raising event for the Bryan Brothers Foundation.
*** Special thanks to event promoter Trevor Short for being in Monte Carlo to help with the Bros. workouts and root them on to the title.
*** Mike and Bob send along their congrats to their pal and star of the Big Bang Theory, Kaley Cuoco, for being on the cover of Cosmo this month.
*** Huge thanks to Justin Gimelstob for all his efforts and considerable influence in making sure lots of doubles matches are televised and especially Finals! He interviewed Coach B at USC for an upcoming ATP Undercover Show telecast. Personable Charlie Fox did the filming.
*** Coach Wayne Bryan looks forward to being the luncheon speaker at the Irvine Marriott for the Orange County Women's Leagues on Monday, May 5, and then emceeing the gala Beverly Hills Invitational for Geoff Palmer and Tony Graham on Sunday, May 18th. He will also be the keynote speaker at the NJTL Coaches luncheon at UCLA on June 7. Bryan will also host the HHS Croquet Championships on June 7th later in the afternoon and he will host the Camarillo International Croquet Championships on June 21.
*** Coach Bryan enjoyed emceeing the Pet Connect Rescue Event in Washington DC a few weeks ago for Carole Dell. The dynamic Carol Dell and her staff, that included Sara Fornaciari, did an amazing job on the gala and several thousand dollars was raised for animal rescue. Bryan then flew back overnight to Camarillo to emcee the Meadowlark Luncheon at the Las Posas Country Club headed up by hardworking and enthusiastic Gwen Speakes, with an event record of $42,000 raised from her fun event for local charities and their good work in Ventura County.
*** Coach Bryan had a great time attending the UCLA vs. USC Match last Friday and he was impressed with the play of both teams and he was happy to see the stands packed and rockin'. He was also very gratified to see that so many local club pros, high school coaches and parents brought groups of juniors. Thanks to great head coaches Peter Smith and Billy Martin for all they do to promote their exciting college matches. It is great for tennis all the way around. Special thanks to the hustling Grant Chen for all he does for the Bruins and for tennis in general. Mike and Bob were happy to see that Stanford beat Cal last week and they send along their congrats to John and the players.
*** Coach B looks forward to hooking up with Hall of Famer Tracy Austin and her talented son, Brandon, on Wednesday at the Spanish Hills CC. Brandon had a nice run to the semis of the Ojai High School Boys Doubles last April and hopes to do even better this time.
Bryan Bros. Schedule:
May 5-11 Madrid
May12-18 Rome
May 26-1 Paris, French Open first week
June 2-8 Paris, French Open second week
June 9-15 Queens
June 23-29 Wimbledon, first week
June 30-6 Wimbledon, second week
July 19 Camarillo, the Tennis Fest at the Spanish Hills CC benefitting the Bryan Bros. Foundation, headed up by Dave McKinney. Pro Am starts @ 8:30 a.m. There are just 12 spots available and the Exhibition will start at noon. Only 1,000 tickets available.
July 20 San Diego, WTT Match vs. Springfield Stadium: Valley View Casino Center
July 22 San Diego, WTT Match vs. Texas website: www.sandiegoaviators.com/
July 23 San Diego, WTT Match vs. Austin. Phone Number: (619) 683-3700
July 28-3 Washington, DC website: www.citiopentennis.com