Djokovic, Federer, Bryan Brothers Each Scoop Pair of ATP Awards
London, England, November, 2012
Courtesy of ATP World Tour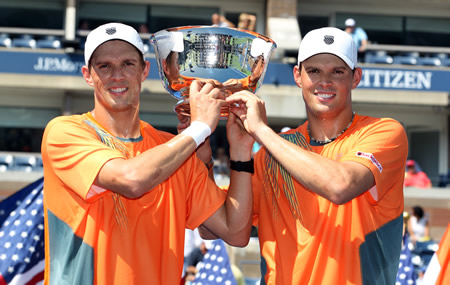 Novak Djokovic, Roger Federer, and the #1 duo of Bob and Mike Bryan each take home a pair of honors in the 2012 ATP World Tour Awards.
Djokovic, who receives the ATP World Tour #1 award for a second straight year, has also been selected as the Arthur Ashe Humanitarian of the Year for his contributions through the his Foundation, his role as a UNICEF ambassador, and other charitable ventures.
Federer continues his domination in two categories respectively selected by his peers and fans. The 31-year-old Swiss collects the Stefan Edberg Sportsmanship Award for the eighth time, and extends his reign as the Fans' Favorite to a record 10th straight year.
The Bryans have also been named repeat recipients of two doubles awards: ATP World Tour #1 Doubles Team and Fans' Favorite.
The 34-year-old twins have now won each
award a record eight times.
The trio will be presented with their trophies in on-court ceremonies this week at The O2 Arena in London.
2012 ATP WORLD TOUR AWARDS:



ATP World Tour #1 Singles Player:
Novak Djokovic: Djokovic successfully defended the Australian Open title and reached the final at six ATP World Tour Masters 1000 tournaments, winning titles in Miami, Toronto, and Shanghai. He also lifted the Beijing trophy and was a finalist at Roland Garros and the US Open.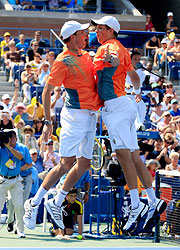 ATP World Tour #1 Doubles Team:
Bob & Mike Bryan: The Americans finish as the #1 duo in the ATP Doubles Team Rankings for a fourth successive year and record eighth time overall. They captured seven titles – their 11th straight season of winning five or more – highlighted by a record breaking 12th Grand Slam trophy at the US Open and the Gold Medal at the London Olympic Games. The Bryans also won a pair of Masters 1000 tournaments in Monte-Carlo and Toronto, and were runners-up at the Australian Open and Roland Garros. They have won the most doubles team titles in the Open Era with 82, and Mike Bryan broke Todd Woodbridge's individual record when he won his 84th trophy with the twins' victory in Beijing. Mike also won the Wimbledon Mixed with Lisa Raymond and the duo were also proud to win the Bronze Medal for the US at the London Olympics.
Fans' Favorite Singles Player:
Roger Federer: The 31-year-old Swiss has been voted the Fans' Favorite for a record 10th straight year, receiving 57 per cent of all votes cast. British No. 1 Andy Murray finished second, just ahead of Djokovic and Rafael Nadal.
Fans' Favorite Doubles Team:
Bob & Mike Bryan: The Bryan twins received an overwhelming percentage of the votes to be named the Fans' Favorite for a record eighth time - - - every year they have had the award. Michael Llodra-Nenad Zimonjic came in second, followed closely by Leander Paes-Radek Stepanek.
Other Award Winners:
Stefan Edberg Sportsmanship Award: Roger Federer
Comeback Player of the Year: Tommy Haas
Newcomer of the Year: Martin Klizan
Most Improved Player of the Year: Marinko Matosevic
Arthur Ashe Humanitarian of the Year Award: Novak Djokovic