Bryans Capture Historic 100th Doubles Title At The US Open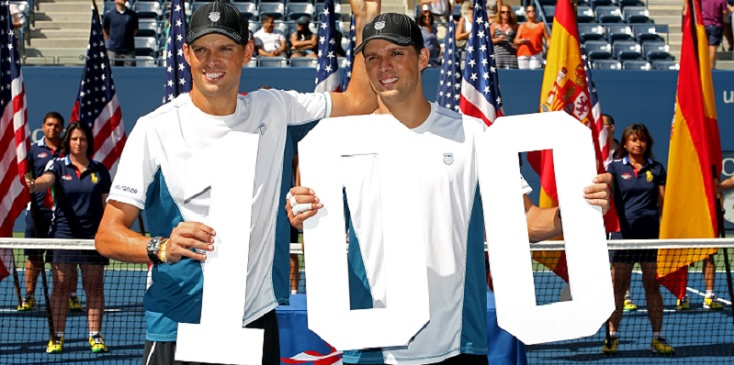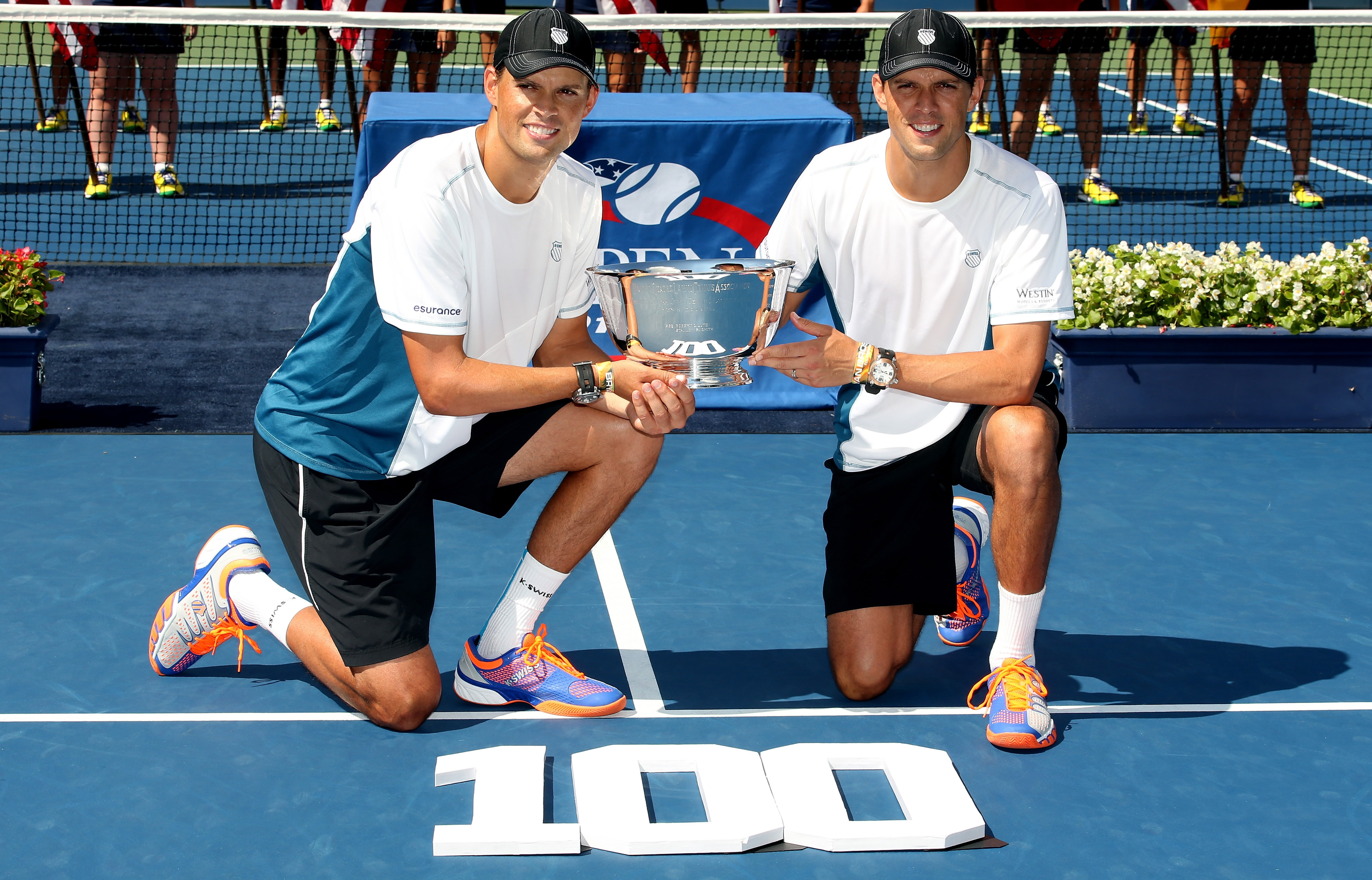 Bob Bryan and Mike Bryan captured a historic 100th team title today with their fifth US Open trophy.
The top-seeded American twins defeated Spanish #11 seeds Marcel Granollers and Marc Lopez 6-3, 6-4 in the final. They are now tied as the all-time US Championships' doubles title leaders, with Richard Sears and James Dwight, with five crowns in the late 1800s.
"We're obviously ecstatic," said Mike Bryan, during the on-court trophy ceremony. "To win here in the U.S., on this court, in front of these fans makes it extra special. Congratulations for Marcel and Marc, they are two class acts. They make it really tough on all of their opponents. We had to play our best match of the tournament. It was a great house to play in front of us. You helped us pull through."
Bob Bryan said, "We had home court advantage, it helped tremendously. It feels really good to come out here at 12:30 to see a packed house. You guys lifted us and pulled us through. We want to congratulate Marcel and Marc on a great tournament. It's not an easy task. We have so many people to thank in the boxes. It's an incredible support system."
The 36-year-old Bryans received $520,000 in prize money and earned 2,000 Emirates ATP Rankings points for their 16th Grand Slam championship title (16-11 overall in major finals). They have now lifted seven tour-level trophies this year and finished runner-up at Wimbledon in July.
For the match, the Bryans hit 25 winners and had only 5 unforced errors, winning 72 points to their opponents 53. The match lasted an hour and 19 minutes.
"We're going to keep pushing," said Bob Bryan. "We love this great game. We're having a great time playing together. We won't rest on our laurels. We're not stopping any time soon."
The Bryans have already booked their 12th trip to the season-ending Barclays ATP World Tour Finals, to be held at The O2 in London from 9-16 November, as the top-ranked team in the Emirates ATP Doubles Team Rankings. They are on course to finish No. 1 for the 10th time in the past 12 years. Excerpted from the ATP Tennis WEB Site.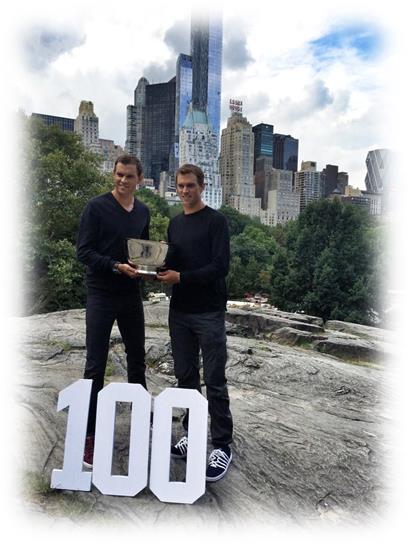 Fast Facts:
*** The Bryans wins at the US Open included:
Max Mirnyi (Belarus)-Mikhail Youzhny (Russia), 6-2, 6-3.
Jaed Donaldson-Michael Russell (USA), 6-1, 6-2.
Bradley Klahn-Tim Smyczek (USA), 6-3, 7-6.
David Marrero-Fernando Verdasco (Spain), 6-2, 4-6, 6-4.
Scott Lipsky-Rajeev Ram (USA), 6-4, 4-6, 6-3.
Marcel Granollers-Marc Lopez, 6-3, 6-4.
*** Mike 'n Bob are enjoying a 10 match winning streak, capturing Cincy and the US Open, back to back. They also had a sizzling 24 match winning streak in the Spring. They are now 51-10 on the year with seven titles: US Open, Indian Wells, Miami, Monte Carlo, Cincinnati, Houston, and Delray Beach, while reaching three finals at Wimbledon, Madrid and Memphis.
*** The Bros. made the rounds of the NY early shows this morning, including the Today Show, Good Morning America, and they will be on the Charlie Rose Show tonight they will fly to Chicago in the wee wee hours to get ready for the Davis Cup vs. Slovakia.
*** Other members of the USA Davis Cup team include John Isner, Sam Querrey, and Captain Jim Courier. The Davis Cup will be held at the Sears Center Arena in Chi Town, Friday, Saturday, and Sunday, Sept. 12-14. For tickets: http://www.usta.com/daviscup Telephone: 1-888-484-USTA (8782).
*** Mike and Bob were glad to have Jim Bogios, the drummer of the Counting Crows and James Valentine of Maroon 5 there in NYC and rooting them on and helping them win. Both these bands have just released great new albums and Jim and James are very fine players and hit with the Bros. from time to time.
*** The Bros. were so appreciative that their Stanford teammate, Ali Ansari, came in for the finals. They were also happy to see another all great college and pro player and teammate, Paul Goldstein, and to be able to congratulate him on his fantastic new position as the head coach at Stanford. Goldie was at the Open working hard on recruiting and Mike and Bob were happy to talk to some of his talented new recruits.
*** Longtime friend Elena Segal flew all the way in from London for the finals and flew back that night, while Amber Vanderzalm and her family drove 1,200 miles to be in Arthur Ashe Stadium for the finals. Sean Wolfington Family and David Koch were there too and attended a gala celebration dinner last night with 75 other close friends. Serena Williams and Caroline Wozniacki also joined up with their group later in the evening following their singles final.
*** Mike and Bob had a fun time - - - as usual - - - signing autographs and posting for pictures at the cool Oakley store in Time Square. The event, also attended by WTA star Sam Stozur, and set up beautifully by Pat Cairns.
*** The guys enjoyed playing a Pro Am and an Exo vs. Juls Rojer and Horia Tecau at the picturesque and venerable Manursing Island Club in Rye, New York, on the Friday before the Open began. The event was run perfectly by Rem Reynolds and Trevor Short of Premier Tennis. Gary Tolman of esurance was there and supported the event and even played in the Pro Am, along with his talented son.
*** The Bros. had a grand time hanging with Bryan Ogle of K-Swiss at the Open and at events this Summer and they are always proud to wear K-Swiss clothes and shoes.
*** The Bryan Brothers Foundation is bringing 15 deserving juniors from SoCal and Nevada to the Davis Cup in Chicago. Special thanks to Terry Lynch of the VCJTA, CathyAnn Simon of the SBTP, and to Gina Marano of USTA Southern for helping organize the trip and chaperoning the kids. Other coaches on the trip besides Coach Bryan, include Ann Grossman and Tracie Currie. The youngsters, besides sitting right behind the USA Team bench each afternoon at the Davis Cup matches, will also have morning workouts with several of the top juniors in Chicago set up by Mark Bey. Mark is one of the top coaches in the country and helped with coaching Mike and Bob at both Cincy and the US Open. Huge thanks and congratulations also go out to the Bros. tour coach, David MacPherson, on another job well done.
*** Coach Bryan enjoyed doing clinics and emceeing at the Winnipeg Men and Women's Pro Event. Big thanks to the dynamic and hustling George Kylar for all he does on this event and for tennis.
*** Coach Bryan also did four days of clinics and emceeing in beautiful Spartanburg at the Pro Invitational there. Cornelius Jordan heads that fantastic and inspirational Pro Invitational there. Very solid guy and pro and loaded with charisma. Carl and Brad and his staff are terrific pros and they have an amazing junior program with lots of top ranked juniors.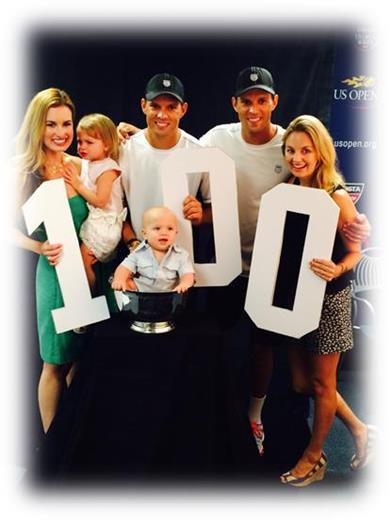 Great Post Match Interview with Justin Gimelstob:
http://www.atpworldtour.com/Tennis/Media/Videos/Uploaded/2014/9/7/US-Open-2014-Final-Bryans-Feature-Interview.aspx#ooid=RxdTU2cDpUtxMZEMRMAgW7YS18f9pshd

Esurance Commercials that have been running continuously during the US Open on ESPN and CBS:
The Bryan Brothers Day Off: http://www.ispot.tv/ad/7jjy/esurance-the-bryan-brothers-day-off
The Bryan Brothers Chest Bump: http://www.marketmenot.com/esurance-chest-bump-bryan-bump-commercial/
Bubs is not happy to pose for this picture at the left, but she had a blast with Grandpa Bryan going to all the great kids areas in Central Park during her Dad and Uncle Mike's US Open Matches . . .

Nagu: This song, written by Micaela Bryan, age 2 ½ and Grandpa Bryan, has been received so well by everyone and thanks to all your support, the song now has over 700 hits on UTube! Wayne played all the instruments and did all the vocals on his 16 track Tascam Recorder in his home studio, while Micaela wrote all the lyrics , and Bob edited the video. Give this little 2 minute and 20 second music video a watch and a listen and it will make you smile and tap your foot: http://youtu.be/BMid2ZPF_rk
Micaela's special words:
Nagu: milk, water, bottle, or water hose.
Bac: flag.
Monsto: monster.
Dadgy: Daddy.
My Toine, Yoh Toine: My turn, your turn.
Sincere Apology: Mike, Bob and Coach Bryan have been overwhelmed with so, so many kind and positive e mails and texts and calls after the guys won Cincy and the US Open, and we are now dashing to Chicago. Truth be told, we are sad that we cannot write back and thank you all for your wonderful support. We read all your notes and we are so humbled and appreciative by your gracious and wonderful words and please forgive us for not sending back a well-deserved thank you . . . We will do our best to catch up this Fall . . .