Bryans Advance at US Open Courtesy of Bob's "Trick Shot"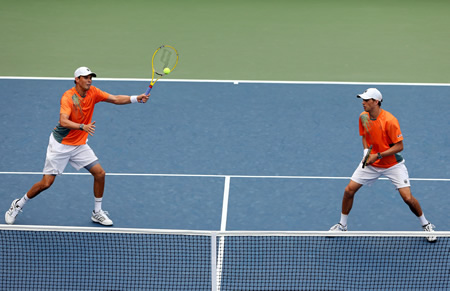 Associated Press
NEW YORK -- Bob Bryan insists he didn't plan it. Mike Bryan says that's a good thing.
But if the Bryan brothers end up winning the U.S. Open, certainly the between-the-legs trick shot
Bob pulled off Monday -- executed when the brothers were two points away from losing their
third-round match -- will go down as one of the most memorable shots either man has hit over
careers featuring 11 Grand Slam titles and an Olympic gold medal.
"There were 20 different options," Mike Bryan said. "He picked the 21st."
Tied at 5 in the second-set tiebreaker, Bob Bryan was standing in the doubles alley, facing
the net when Santiago Gonzalez rocketed a ball toward his midsection. Bryan stuck the racket
behind him and between his legs to knock it back, then, after the ball came back again, he closed
out the point with an acutely angled, inside-out forehand winner.
The Bryans went on to beat Gonzalez and Scott Lipsky 6-7 (8), 7-6 (5), 6-3 to advance to the quarterfinals. Bob Bryan called it the kind of shot kids hit while they're on the back, practice courts playing mini-tennis. "If I was a coach, I'd tell my student never to do that," he said. "Or never do it again.It's something you don't want to try at home."
On the next point, Mike Bryan hit a perfectly placed topspin lob for a winner to close out the second set.Relatively traditional by this day's standards, though Mike celebrated by doing the "lawn mower" – kneeling down and pumping his fist a few times. It's the kind of move he says he normally reserves for Davis Cup matches, though after those points, the Bryans said the Grandstand court had that kind of feel to it. "When stuff like that happens, sometimes you feel like you're playing with house chips," Bob Bryan said. "It's happened before."
Buoyed by the way the tiebreaker ended, the Bryans broke in the fourth game of the third set - - -only the third service break of the match - - - then served it out to advance.
The Bryans are seeking their fourth U.S. Open title, but say they've already accomplished their main goal for 2012 - - - winning the Olympics. They capped that one off with flair. In the gold-medal match, Bob Bryan sprinted across the court, nearly to the backstop, and flipped a lob over his shoulder with his back to the net. The Bryans won the point to close out the victory over Jo-Wilfried Tsonga and Michael Llorda of France. Bryan called that his "Willie Mays" shot. This one doesn't have a nickname yet.But it was memorable.
"I picked the worst option," he said. "But the coolest option."