Bryans To Finish No. 1 In Year-End ATP Doubles Team Rankings For Record 8th Time
London, U.K.
Courtesy of ATP
October 22, 2012
American brothers Bob Bryan and Mike Bryan have clinched the year-end No. 1 ATP Doubles Team Ranking for a record eighth time and for the
fourth consecutive season.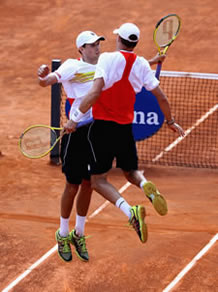 The 34-year-old twins have compiled another outstanding campaign, highlighted by capturing an all-time record-equalling
(w/ Newcombe-Roche) 12th Grand Slam title (an Open-Era record) at the US Open and winning the gold medal at the London 2012 Olympic
Games. They were also champions in Sydney, Monte-Carlo, Nice, Toronto and Beijing, as well as finalists at the Australian Open and Roland
Garros. They are the only team to win at least five titles for 10 straight years.
Bob said, "Finishing No. 1 is always our ultimate goal when we start any season and to achieve this again feels amazing. The quality of
doubles continues to get tougher each year and it is an honour to finish ahead of so many strong teams.
"Winning the gold medal along with the US Open made this past summer one of the most memorable times in our career. I want thank our coach,
my family, and our fans for their incredible support. We look forward to heading back to Europe for Paris and London."
Mike added, "We will look back on 2012 with a lot of fond memories. Winning the Olympics and breaking the Woodies' record at the US Open
were obviously the highlights, but finishing the year on top of the team race shows that our season as a whole was very successful and
consistent. Our focus will now shift to performing our best at the Barclays ATP Tour World Finals and finishing the year strong."
ATP Executive Chairman & President, Brad Drewett, said, "Bob and Mike have once again set the standard for doubles on the ATP World Tour in 2012. Finishing the year as No. 1 is the ultimate achievement in our sport. The fact they have done this for a fourth consecutive year, and eighth time overall, says everything about these great champions. They are a credit to our sport and will undoubtedly go down among the greatest doubles teams in the history of the game."
Together with Todd Woodbridge and Mark Woodforde, the Bryans are one of only two teams to have won every Grand Slam title as well as an Olympic gold medal. They have won the most doubles team titles in the Open Era with 82, and Mike Bryan broke Woodbridge's individual record when he won his 84th trophy with the twins' victory in Beijing.
They also finished as the ATP World Tour No. 1 Doubles Team in 2003, '05-07 and '09-11. As individuals, they both have been ranked No. 1 in the ATP Doubles Rankings for a record 298 weeks.
The Bryans are bidding to crown their season by winning the Barclays ATP World Tour Finals for the fourth time, adding to titles in 2003-04 and 2009. They have qualified for the eight-team season finale for the 10th straight year (2003-2012) and 11th time overall (also 2001).
ATP WORLD TOUR YEAR-END NO. 1 DOUBLES TEAM
Year Player
2012 Bob Bryan/Mike Bryan
2011 Bob Bryan/Mike Bryan
2010 Bob Bryan/Mike Bryan
2009 Bob Bryan/Mike Bryan
2008 Daniel Nestor/Nenad Zimonjic
2007 Bob Bryan/Mike Bryan
2006 Bob Bryan/Mike Bryan
2005 Bob Bryan/Mike Bryan
2004 Mark Knowles/Daniel Nestor
2003 Bob Bryan/Mike Bryan
2002 Mark Knowles/Daniel Nestor
2001 Jonas Bjorkman/Todd Woodbridge
2000 Todd Woodbridge/Mark Woodforde