Bryans Win 3rd Beijing Title in Four Years…Mike Breaks the All-time Record
Oct. 7, 2012
Courtesy of ATP
Bob Bryan and Mike Bryan did not drop a set en route to winning their third China Open title in four years on Sunday at Beijing.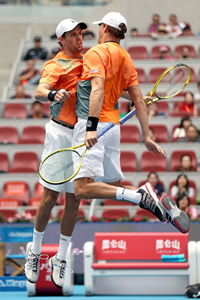 The top seeds lost just eight points on serve to beat Carlos Berlocq of Argentina and Denis Istomin of Uzbekistan, 6-3, 6-2 in
57 minutes. It was their seventh title of the 2012 campaign and they are enjoying a sparkling 59-9 record on the year.
It was Mike Bryan's 84th career doubles title, an all-time record, over-taking Australian great Todd Woodbridge's mark of 83
trophies. Bob Bryan now has 82 - - - two behind Mike and one behind Woodbridge.
"It's obviously an honor to hold this prestigious record," said Mike Bryan. "There are some incredible names towards the top
of this list and it's humbling to be in such elite company. Huge props must go out to Todd Woodbridge, who epitomized class
and excellence on and off the court."
The American twins earned $156,740 in prize money and 500 ATP Doubles Rankings points and they are now some 3,100 points
ahead in their quest to be #1 for the year - - - a record setting 8th time.
"It feels great to win again in Beijing," said Bob Bryan. "We love playing here and have created some really fond memories in this
city. The facility is impressive, the hospitality is first class, and we always receive tremendous support from the fans."
Berlocq-Istomin shocked second seeds Max Mirnyi and Daniel Nestor in the first round and then had two other upsets along the way over Mahesh Bhupathi-Rohan Bopanna of India and Brits Colin Fleming-Ross Hutchins.
Fast Facts:
*** The Bryans' wins this past week at the China Open, included: Pablo Andujar-Feliciano Lopez, 6-1, 7-6; Alexandr Dogopolov-Lukasz Kubot, 7-6, 6-2; and Carlos Berlocq-Denis Istomin, 6-3, 6-2.
*** The Bryan Twins are currently #1 in the Doubles Rankings and #1 in the Doubles Race.
*** The Bros. are #1 on the all time list for doubles titles by a team - - - with 82. The Woodies (Mark Woodforde-Todd Woodbridge) are second with 61.
***Mike and Bob have set 15 all time doubles records.
*** Mike and Bob were proud to have won the US Open Sportsmanship Trophy. It was the inaugural award and Aussie Samantha Stosur won it for the Women. The Bros. had previously won the Ernest Langston Sportsmanship trophy at the US Claycourt Championships at River Oaks in 2010.
*** The Bros. flew to Shanghai late on Sunday Night to compete in that Masters Series Event this week. Following the China tournaments the Bros. will return home for five days before heading off to the European Indoor Season, where they will play Valencia, Paris and the year end Masters Cup at the O2 Arena in London.
With Sadness:
*** Mike and Bob dedicated their Beijing title to their great Aunt Barbara Bryan who passed away last week and they send along their most heartfelt sympathy to Booty, Lloyd, Rock and Polly.