Bryans Fulfill Olympic Dream
By: ITF Tennis Staff
Bryans Bros Win Olympic Gold - Watch Full Match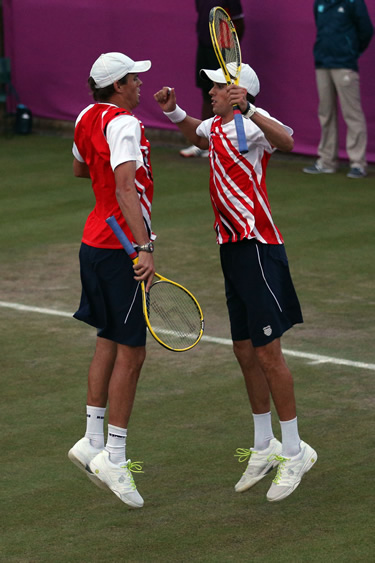 LONDON, GREAT BRITAIN: Bob and Mike Bryan defeated Jo-Wilfried Tsonga and Michael Llodra in straight sets
in their gold medal match to be crowned Olympic champions at last.
The top-ranked pair were too accomplished as they beat the French duo 6-4, 7-6(2) in 1 hour 28 minutes, and
completed a Golden Slam in doubles on the same day that compatriot Serena Williams achieved hers in singles.
Mike and Bob Bryan were overjoyed to claim the one major title missing from their career, having accumulated 11
titles across all four majors, and helped USA to win the Davis Cup trophy in 2007. They won bronze in Beijing four
years ago, defeating Arnaud Clement and today's opponent Llodra in the bronze medal play-off, but it was never
going to be enough for such a high-achieving partnership and today's triumph fulfils a much-cherished dream for
the identical twins from California.
On a great day for USA, the Bryans are the first American men's doubles pair to win Olympic gold since Ken Flach
and Robert Seguso in Seoul in 1988. They said they drew inspiration from Serena Williams's focus and intensity
in winning her gold medal just before them, and took the same attitude into their match.
"This kind of eclipses any of our wins," said Mike Bryan. "There hasn't been a more special feeling than this."
Bob continued, "We've won a lot of Slams. Slams are awesome. I can tell you there's no better feeling than this
right now. Winning for each other, for our team, but for our country. It brought a different level of intensity to our tennis
this week."
"We were scraping and clawing on every point. To hear the national anthem and stand on top of the podium, we
could shut our careers down today and be happy for the rest of our lives," said Bob Bryan.
The Americans attacked Tsonga's serve in the opening game, and got the break immediately. After that neither team
was much threatened until the marathon eighth game when, with the Bryans leading 4-3, the French pair had six
opportunities to break Mike Bryan's serve but just couldn't get the better of the US twins, whose superior net play
and greater experience was starting to tell. Bob Bryan served out the set in 40 minutes.
Tsonga and Llodra dug in more in the second set and resisted a break point on Llodra's serve at 30-40 in the fifth game, raising the hopes of the French supporters on Centre Court who cheered on their team with cries of "Allez les Bleus". Tsonga and Llodra had the advantage of serving first but it didn't intimidate Mike Bryan, who held his serve to love at 5-6 to force the tiebreak.
The French couldn't take the match into a third set though as Tsonga lost both his serves in the breaker, the second on a double fault, to slip behind 4-1. It was a Tsonga error that brought up match point for the Americans: in an incredible point which saw the French retrieve a high-bouncing lob and keep it in play, it was Llodra who faltered, snatching at a volley which found the net to hand victory to their opponents.
"When we didn't win the gold (in Beijing), if we could drop a pin on the calendar, you know, a place to peak, it would be here, and we did it," said Bob Bryan. The 34-year-old twins haven't finished yet though, saying that they plan to play Rio in 2016 then retire.