Bryans Bring Juniors To Davis Cup

by Matt Fitzgerald, Feb. 1, 2013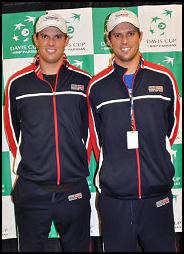 Jacksonville, U.S.A. -- Bob Bryan and Mike Bryan have racked up a number of doubles accolades throughout their careers, but their Davis
Cup record may be the most notable impression they've made on the game they love.
The Bryans have won 20 of their 22 doubles rubbers when suiting up for their country. The Camarillo, Calif. natives are back in the competition
this weekend, as USA faces Brazil in Jacksonville, Fla. The American twins will square off against Marcelo Melo and Bruno Soares
on Saturday.
ATPWorldTour.com caught up with the Bryans, where the top-ranked duo talked about their coach's Davis Cup superstition, foundation
work, Micaela's diva-like-behavior and more…
How are you feeling after winning your sixth Australian Open trophy to break the all-time major team titles record? You haven't
had much time to process it after rushing back to prepare for this weekend's Davis Cup tie.
Mike: We're still riding high. We're super excited to break that record and do it in Australia to start the year off strong. We're
confident coming into this Davis Cup 10-0. It's hard to fathom not losing a match to start the year in Australia.
Being Florida residents, how familiar are you with the Jacksonville area? Are there any places you're looking to visit?
Bob: Jacksonville's made a great impression on us so far. We're staying on the St. Johns River, which is beautiful. We went to a school on Tuesday and met some nice people, so we're enjoying our stay here. We've never made it up this far north in Florida. We've spent a lot of time in this state during our lives. F rom when we were 10 years old, we would go down to Key Biscayne to the USTA Headquarters. We're hoping to have some time after the tie to visit some places. My wife drove up with Micaela on Thursday. Do you have any suggestions?
I don't know much about Jacksonville, but nearby St. Augustine is the oldest city in the United States. I highly recommend it.
Bob: Really? The oldest city in the country? Is it south?
Yes. It's about 50 minutes southeast.
Bob: Cool. It's on the way home to Miami, so we could check it out.
You two and your coach David Macpherson have a superstition when it comes to Davis Cup, in that he does not attend these matches live. How did this come about? Mike: It's more of his superstition. We've asked him to come to a few ties, but he's like, 'You guys are 20-2. I don't want to screw things up.' We're on the phone with him a lot and he sends us scouting reports. I guess he enjoys these weeks off as he can spend them with his kids. He's only a few hours away from this tie in Tampa, but he doesn't want to jinx it. So it's a superstition on his part, as we would love to have him here.
The Bryan Brothers Foundation has brought eight deserving juniors they sponsor to the Davis Cup. How did you come up with this idea?
Bob: We were inspired to play tennis by seeing events like this. We went to see Davis Cup when we were 10. It gave us lofty dreams. We feel like we're living our dream by being on this team. So we had the idea to select eight kids who showed improvement both on the court and in the classroom, and really taking care of business with their lives in a positive way. So we wanted to reward them. They're going to do workouts in the mornings and then watch the matches to support the team. We're excited to be able to do this.
Besides Twitter, what is Micaela into these days? She just turned one last night, so has she started talking? Is she a diva? Who is she picking to win the Super Bowl? Bob: I think she's picking the 49ers because her dad is picking them! She's babbling a lot and walking quite a bit. Some days she likes to crawl, others she likes to walk. She goes over to the piano and bangs on the keys. She has a little xylophone she plays all the time. She likes to imitate her mom by picking up a brush, combing her hair or putting on jewelry. So she is a little diva.
Which Davis Cup teammate, past or present, is most likely to…
Show up to practice the latest? Mike: The coaches we've had do not tolerate tardiness, especially Jim Courier. So you're always down to catch the van two minutes early.
Get lost in a major city? John Isner. He owns a Blackberry so he doesn't have iMaps.
Audition for American Idol? Ryan Harrison. He's got the looks, he's still young enough to attract the young fans and he's been known to sing with us.
Become a future Davis Cup captain? James Blake or Andy Roddick. They could both be next in line. But Courier has a while left.

Pull a prank on you? Bob: Andy Roddick and James Blake. They started the pranking. It's become pretty dirty over the years. Everyone has had something done to them they wish they didn't happen. I've had some horrific scenes in my hotel room. We'll leave it at that…
Watch a ChickFlick? Sam Querrey. He's getting a little sappy. He was watching The Bachelor the other night with his girlfriend.
Order pizza in a foreign country? Ryan Harrison. He's young. He can put down the calories with his high metabolism.
Forget the score in a match? John Isner. He just serves big. He doesn't know what the score is. He's usually just waiting for a 'breaker.