Bryans Win Third Title Of 2012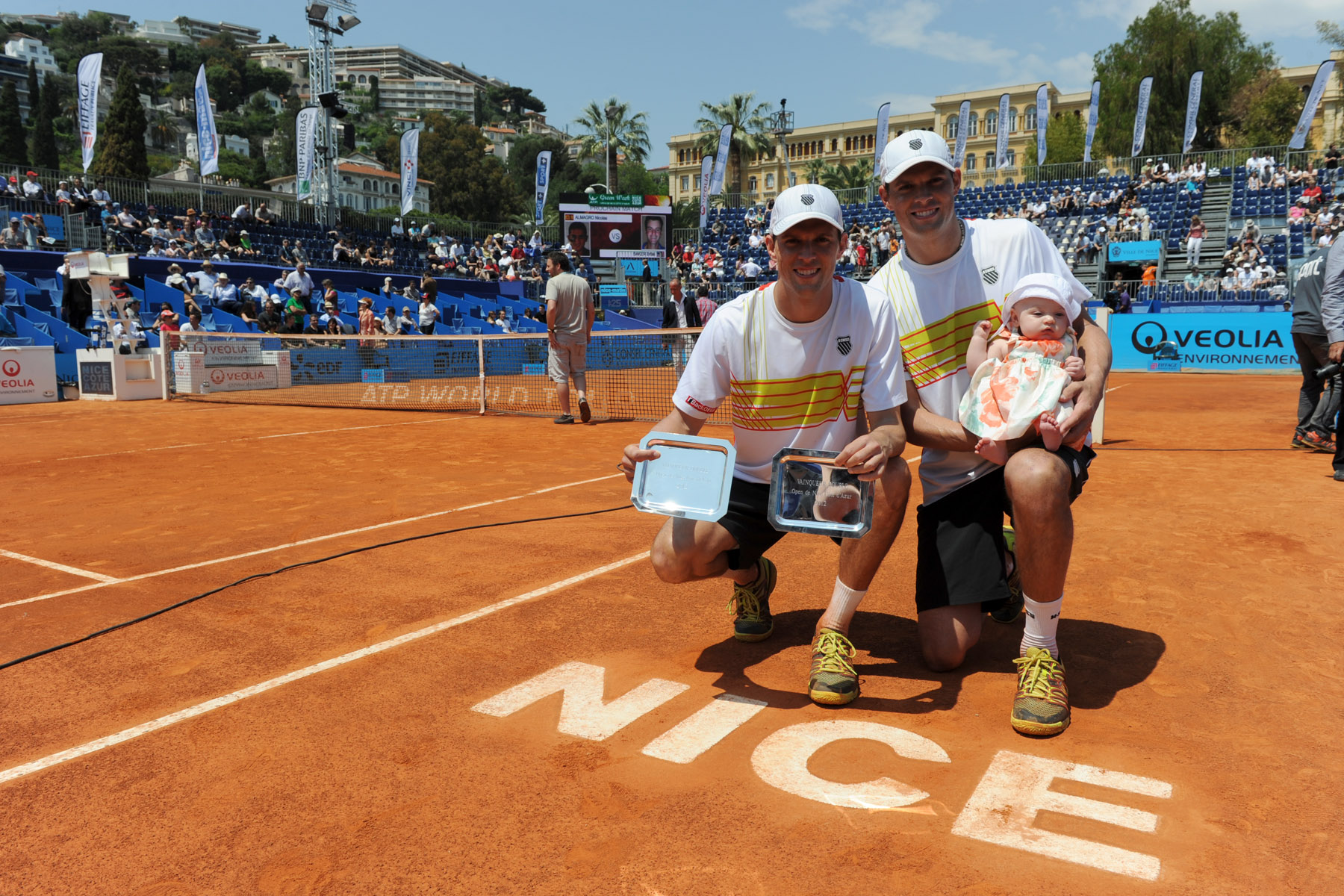 Top seeds Bob Bryan and Mike Bryan captured their third title of the season on Saturday after they defeated Olivier Marach of Austria and Slovak Filip Polasek 7-6(5), 6-3 at Nice, France.
It was the American's 78th career doubles title and they have now appeared in 120 tour finals - - - both records.
"We've obviously very happy we came here," said Mike Bryan. "We've been playing well on the French Riviera the last few years. Our level improved with every match and we feel confident going into Roland Garros next week."
"We were up and down in the first set. We were down a break, so it was nice to fight back. I think we served well the whole week, especially today."
Bob Bryan added, "It's the second title with my daughter, Micaela, now. Her birth put the tour and my career into perspective. I'm playing for my family now. It's not more pressure, but it's more fun. I'm happy to be traveling the world with the two people I love, Michelle and Micaela. I'm happy to make memories with them.
"It's nine years since we won the title at Roland Garros, so we'd like to win again there."
The Bryans have also lifted trophies, in 2012, at Sydney (d. Ebden-Nieminen) and their third straight crown at Monte Carlo last month (d. Mirnyi-Nestor). They also reached the finals of the Australian Open for the 8th time in January.
The Bryans are now 26-5 on the year
By: ATP Staff
Fast Facts:*** Wins for Mike 'n Bob in Nice: Matthew Ebden-Bernard Tomic (Australia), 6-2, 6-2; Daniele Bracciali (Italy)-Jamie Murray (England),4-6, 6-2, 12-10; Aisamn Qureshi (Pakistan)-Jean-Julien Rojer (Netherlands Antilles), 6-4, 6-4; and Oliver Marach (Austria)-Flip Polasek (Slovak Republic), 7-6 (5), 6-3.
*** The Bryans had a photo spread in Vogue Magazine this month that was shot by famed photographer, Annie Leibovitz.
*** Jason Collins, current star for the NBA's Atlanta Hawks, and former Stanford classmate of the Bros. will be visiting the guys while he is in Paris next week during the French Open. He and his brother, Jarron, have always claimed that they were the best twin athletes in the history of Stanford, while Mike 'n Bob have always laughingly disputed that.
*** Kathy is looking forward to flying to London to hang with the Bob 'n Michelle, Mike 'n Lucie and Davo and to take care of the mighty Micaela during Queens and Wimbledon. The Bryan team always stays at the Peter Segal Mansion when they are in London. Mr. Segal was also so nice to engineer an honorary membership in the Queens Club for the Bros. so they are able to work out at that venerable club when they are in England.
*** Mike and Bob dedicated their Nice title to Jack Robinson, a cute and gutsy 12 year-old sports fan and athlete, who is undergoing chemo right now. His Aunt Joanna Brach and Uncle Ted Dintersmith asked the Bros., through their legendary Stanford Coach, Dick Gould, to send along a signed hat for him to wear during his treatment. The Bros. were happy to send along three signed hats, two signed posters and some of their highlight package DVDs and their best wishes and support for a speedy recovery to this great youngster. They are hoping he can come to one of their tournaments so they can meet up with him later in the year.
*** The twins are also honorary members and touring pros for the beautiful Spanish Hills Country Club in Camarillo, California and they have a Bryan Bros. Foundation Event there each year, headed up by Dave McKinney. The tentative date for this year's event is Friday late afternoon and night, September, 28.
*** The Bros. are also looking forward to playing the Esurance Tennis Classic at the picturesque Harbor Point Tennis Club in Mill Valley, September 21-23. The event is headed up by the charismatic Hall of Famer, Rosie Casals, and the dynamic Robert Kaliski. The Bryan Bros. Band will play gala concerts on both Friday and Saturday Nights and Mike 'n Bob hope to have American Idol star Michael Johns, Counting Crows drummer Jim Bogios, Grammy nominated singer-songwriterJames Slater fromNashville, and SoCal star musician and songwriter, George Holdcroft. Bogios is currently out on a three month tour with the Crows, and speaking of Slater, check out the new tune he penned for Carrie Underwood, "Forever Changed" on her new album, "Blown Away".
*** Special congrats to Greggie Woodburn, a long time family friend of the Bryans. After walking on to the USC campus, he starred in Cross Country and Track and won every possible award a college student and athlete can win and even ended up giving the graduation address. What a winner and great young man.
*** Kaley Cuoco, a long time Bryan family pal, is finished shooting her hit series The Big Bang Theory for the season, and is now vacationing in Hawaii and reports that she is back to playing tennis and loving it! Kaley was a national caliber player back in her junior days and has been so nice to play in lots of the Bryan Bros. Charity Exos through the years. She attended Wayne's UCSB Hall of Fame Induction ceremony and lit up the room and her sis, Bri, just killed on her rendition of Be My Baby.
*** Tennis Channel Founder and Ski 'n Surf Channel CEO, Steve Bellamy, did some commercial shoots with Roger Federer in Rome last week and while there, went out to dinner with his wife, former WTA star, Beth Herr, the Bros. and Lucie and Michelle and Micaela. Wonder who picked up the tab?
*** Mike and Bob and Wayne send along their congrats to Peter Smith and the USC Men's Team, who won the NCAA Team Title for the 4th year in a row! They have worked out a few times with their #1 player and last year's NCAA Champ, Stevie Johnson, and Danny Nguyen, the #3 player on the squad and from nearby Oxnard. Great guys and great practice! Look for Stevie in the top hundred and soon. Wayne always enjoys talking with Stevie's Dad, Big Steve.
*** Coach Bryan is looking forward to the fast approaching World Team Tennis season and he is set to begin his 11th season with the Sacramento Caps. Former world #1, league MVP, and team captain, Mark Knowles returns as does, former UCLA All American Yasmin Midnight Schnack, along with first timer, Asia Muhammadfrom Las Vegas and out of Ryan Wolfington great program. Coach B is happy to also report that Sam Querrey will also play five matches, while Mardy Fish will play two. Hard driving Ramey Osborne is the managing parter of the team, while Matt McEvoy is the GM and Deepal Waanakuwatte is the owner.
*** Wayne flys up to Sacramento next week to watch the Women's Tournament and support Yas and Asia in the singles and doubles there. He will also make a few appearances and do a few clinics while up there in Sac Town.
*** Wayne spoke to the Westlake Women's Club a few weeks ago and was so glad to see super singer and Mike 'n Bob's God Mother, Jeanne Tatum, in the audience.
*** Coach B had a blast emceeing the star studded Beverly Hills Invitational, hosted at the astonishingly beautiful Geoff Palmer Mansion. Former UCLA All American and NCAA Finalist from UCLA and tour player and bon vivant, Tony Elvis Graham, ran the event. Mike 'n Bob's all time idol and former #1 in the world, Ricky Leach, won the BHI for the second straight year and he is still playing his sharp and amazing doubles. Former world #11 in singles and #2 in doubles, Scotty D. Davis also played well and was in the money as was former tour #33 Chuckie Adams. Wayne's former Caps player Ashley Hark Harkleroad was in attendance with her two cute kids, Chuckie IV and Loretta Lynn. Former #1, Monica Seles, also added lots to the event along with comedian/actor Jon Lovitz.. Monica played doubles with Mike and they did well in the Huggy Bear Doubles a few years ago and Jon has played lots of the Bros. Charity Events.