Nice Guys Finish First
By Bonnie D. Ford | ESPN
With all their records and triumphs, the Bryan brothers remain as gracious as ever.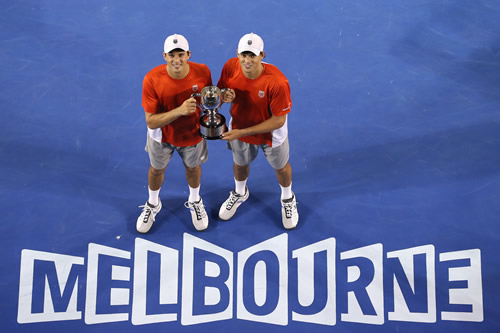 MELBOURNE, Australia – Once, in what seems like the distant past but is really only 10
years ago, the Bryan twins had to wait their turn and prove their prowess to be selected for
the U.S. Davis Cup team. Then they had to lead a political fight to keep doubles tennis
from withering into irrelevance.
The elapsed time does makes sense. Bob and Mike Bryan have made so much history
that the early portion of their peerless joint career now reads as prehistoric.
Saturday, the Bryans knocked down the last big bowling pin left standing in their alley,
winning a 13th Grand Slam title at the Australian Open to surpass the Aussie duo of
John Newcombe and Tony Roche. The accomplishment came five months after they
captured the Olympic gold medal that had skipped off their strings twice before.
The twins, who are 20-2 in Davis Cup play, were the fulcrum of the Andy Roddick-led,
Patrick McEnroe-captained 2007 U.S. team that won the championship. They own
the record for total titles as a tandem at 84 and counting, have spent nearly 300 weeks as
the world's top-ranked team and have won every Slam more than once, except for the
French Open, where they earned their first major win in 2003. They intend to play through
the 2016 Rio Summer Games, when they will be 38 years old.
For a washed-up recreational doubles hack like me, watching the Bryans play can be a goose-bumpy experience both because of their skill and their genetically based synchronicity. From a professional standpoint, however, the best part of covering them has been observing their congeniality and generosity with fans and media in a sport in which, after all these years, they still have to work to be more than a postscript.
I've written this before, because their sustained success has given me multiple chances to write it, but it bears repeating: They combine genuine talent with genuine personalities, which is not always the case in elite sport.
Saturday night was a great example. The Bryans played their championship match against Robin Haase and Igor Sijsling of the Netherlands very late after the women's singles final. Most reporters, including me, were on deadline writing about the bizarre circumstances around Victoria Azarenka's win over the twice-injured Li Na and could only monitor a few key points in the Bryans' match.
I dashed into their news conference a few minutes late and asked a question that had already been asked in a slightly different form, as I later discovered by reading the transcript. They could have grumbled or given a perfunctory answer.
Instead, Mike looked at me and said, "It would be nice to win another Davis Cup, to have a couple of those once we retire. You know, we're really focusing on that. I think we play our next match in five or six days. … We have a great draw this year. As Bob said, just always trying to finish the year ranked #1.
"We're looking long term to Rio, but really taking one year at a time and play this year as hard as we can. We're not skipping any tournaments.''
The Bryans, both married now (Bob has an almost-one-year-old daughter, Micaela, whose Twitter feed is spectacular for her age), still have obvious competitive passion, but they don't pretend that every day on the tennis circuit is a happy romp.
"One twin has to manufacture and pull the other twin along,'' Mike said. "We just don't let the other guy slip. I mean, you see us; we're always moving our feet. Sometimes we're faking it. Sometimes we really don't have it in us, but we're just bouncing around trying to show the other guys we're bringing energy.''
Bob added, "Yeah, we'll taper, practice harder some weeks than others, try to peak for the bigger ones. But we're not going to go out there and tank a match. You know, we go out there as the #1 team in the world and we want to put on a good show. Some people are seeing us for the first time, and we want to keep the level and the quality everywhere we go.''
They don't take what they have for granted. Neither should anyone who has the chance to see them.