Bryans One Win Away From Historic Achievement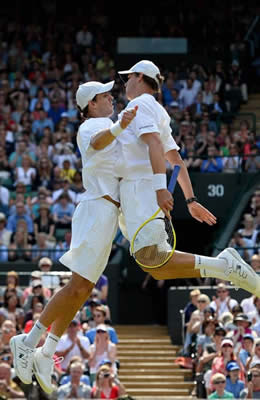 Wimbledon, England - - -Bob Bryan and Mike Bryan reached their fourth Grand Slam final in a row on Thursday at Wimbledon as they
edged Rohan BopannaandEdouard Roger-Vasselin6-7(4), 6-4, 6-3, 5-7, 6-3 in the semi-finals ofThe Championships.

After victories at the Australian Open and Roland Garros this year, the Americans are bidding to become only the second team in history
to win the calendar Grand Slam, following in the footsteps of Australians Ken McGregor and Frank Sedgman in 1951.

Having also won the 2012 US Open, the Bryans are one win away from becoming the first team to hold all four Grand Slam
championships and the Olympic gold medal. McGregor and Sedgman hold the record for most major titles in a row, having won
seven straight trophies from the 1951 Australian Open till 1952 Wimbledon.

The 35-year-old twins are looking to win their 91st tour-level title and 15th major in 24 finals.They will face either fourth seeds
Leander PaesandRadek Stepanekor 12th seedsIvan DodigandMarcelo Meloin Saturday's final.

The Bryans have triumphed at the All England Club twice before, with victories in 2006 (d. Santoro/Zimonjic) and 2011
(d. Lindstedt/Tecau) and are through to the final for the sixth time, having also finished runners-up in 2005, '07 and '09.

The Bryans go into the final on a 23-match winning streak. They have not lost a match since the Monte-Carlo Rolex Masters final
(l. to Benneteau/Zimonjic), winning titles in Madrid (d. Peya/Soares), Rome (d. Bhupathi/Bopanna), Roland Garros (d. Llodra/Mahut) and
The Queen's Club (d. Peya/Soares).

- Courtesy of ATP