Bob Bryan And Mike Bryan Named Tennis News Persons Of The Year 2012
Courtesy of Bob Larson's Daily Tennis News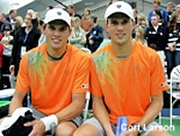 The Bryan brothers, Bob and Mike, have been named The Tennis News Persons of the Year in recognition of their service to worthy tennis
causes throughout the year, but, according to Daily Tennis News Publisher Bob Larson, even more in recognition of their career-setting
record of tennis performance.
According to Larson, new words will have to be created to adequately describe their accomplishments, "to merely say they are the best-ever,
doesn't really do them justice. They stand at the top of tennis performance in doubles.
"Perhaps, when describing doubles performance and rankings, the ascending descriptions should be 'Good, Better, Best and Bryans.'"
When the Bryans were notified over the week end that they were being named Tennis News Persons of the Year, their response was, "Cool."
When they were told that presentation of the awards, called "The Bellamy", would be at Indian Wells in March by Steve Bellamy, founder of The Tennis Channel and the first winner of the award, the twins said as twins sometimes do, in unison, "We'll be there!"