Bob and Mike Bryan Raise Their Racquets for Charity...And More!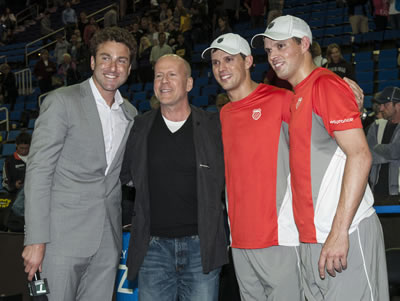 Heading into back-to-back ATP Mandatory tournaments at Indian Wells and Miami, Bob and Mike Bryan took
time out to help their friends in back-to-back charity fundraisers.
Before a sold-out crowd of 7,500 at UCLA's famed Pauley Pavilion, on March 4, the battle of "World No. 1's"
at the LA Tennis Challenge went to the reigning World #1 doubles team Bob and Mike Bryan who defeated
the team of current World #1 Novak Djokovic and former World #1 Hall of Famer Pete Sampras, 6-5. The
event was conceived by Tennis Channel broadcaster and former ATP player turned Tennis Channel
broadcaster Justin Gimelstob and current ATP star Mardy Fish to benefit the Mardy Fish Children's Foundation,
The Justin Gimelstob Children's Fund, Novak Djokovic Foundation, Call To Cure, and the Southern
California Tennis Association.
After a quick trip down Rte. 10 to Palm Desert, Bryan Brothers overpowered the duo of Sam Querrey and
Fernando Verdasco, 6-1 at the 9th Annual K-Swiss Desert Smash Classic hosted by Ryan MacAulay at the
LA Quinta Resort to benefit Variety The Children's Charity.

The busy Bros. also took part in a photo shoot for K-Swiss followed by a Fantasy Camp at Rancho Las Palmas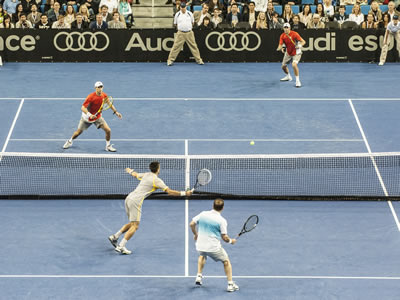 on March 6, while their father Wayne Bryan welcomed two special guests on the Coach Bryan Tennis Talk
Show presented by Bulova: world-renowned tennis journalist Bud Collins and former South African tennis
great and founder of the BNP Paribas Open co-founder Ray Moore.
Closing out the pre-tournament festivities for the BNP Paribas Open, the Bryan Brothers Band performs on
March 7 at the tournament site with famed Counting Crows drummer Jim Bogios and former American
Idol Star Michael Johns.