Seeing Double? Bryan Twins Have Made the Game Their Domain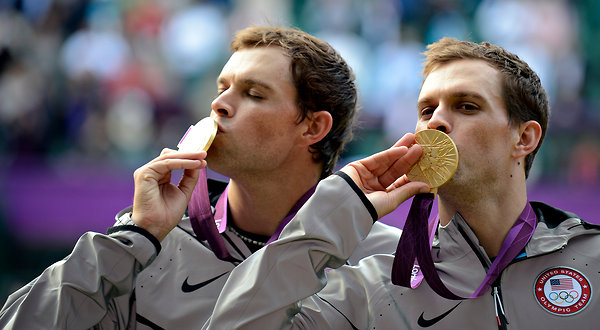 Mike, left, and Bob Bryan of the United States savored their 2012 Olympic gold medals after they defeated Jo-Wilfried Tsonga and Michael Llodra of France in the men's doubles final at Wimbledon in August
By Christopher Clarey
November 2, 2012
Courtesy of the NY Times
For those who think Olympic moments come only at the Olympics, consider the Bryan twins, who had one of their own this year in a rental car in Cincinnati.
Bob and Mike Bryan had been gold medalists for more than a week at that stage, but something was still missing. As they drove to the practice courts a continent away from London, Bob said he suddenly realized — with full force — that they had well and truly won.
"I started screaming, 'We did it!"' Bob Bryan said. "And then Mike joined in. We were cussing, yelling, explicit stuff, just going crazy and screaming at the top of our lungs. It was a weird, beautiful moment and it went on for like five minutes. And that's when it finally set in, finally hit, and really nothing has been able to bring us down since."
The Bryans, one of the greatest doubles teams in tennis history, have had better seasons in statistical terms than 2012, in which they have won seven titles so far. The American twins were 77-9 with 11 titles and a Davis Cup trophy in 2007. They were 11-0 in finals in 2010, winning the Australian and U.S. Opens.
"We've had some great seasons, but there's going to be no better year than this year, no matter what we do from here on out," Bob Bryan said. "Getting the gold medal is definitely the greatest thing we've ever done in the sport."
And so, as the twins return to London for the ATP World Tour Finals starting Monday, their tennis checklist is now complete. At age 34, they have won every major title at least once and won their 12th Grand Slam title together at this year'sU.S. Open, which tied the record long held by the Australians John Newcombe and Tony Roche.
The twins are already guaranteed to finish #1 for the eighth time in 10 years and although Roger Federer generated headlines in October for hitting the 300-week mark atop the singles rankings, the Bryans had already punched through that barrier in doubles.
But they are used to being overshadowed by singles players, and they are used to hearing that there are no American men left in a major tournament once all the singles players lose, even if they are still in the doubles. Does it ever rankle?
"I mean, we're not insecure, bitter people," Bob Bryan said. "We're very happy with the way our career has gone. We feel lucky. I would never dream that we would have done this well. So I don't get upset when the spotlight doesn't shine on us as brightly as a lot of people think it should. I'm happy with the niche we've carved out in this game. We have all the money we could want. Our families are set and we have great lives and we're both very appreciative of that."
Motivation, at age 34, just might turn into an issue, but for now the twins still seem plugged into some weapons-grade source of positive energy. (Mike has been on a gluten-free diet for eight years and his brother joined him this summer. Mike is also dairy-free.)
"It feels like we've done it all now," Bob Bryan said. "The rest is just gravy from here on out, but we are looking forward to playing these next few years of our career because we still love it, and we do have a lot of goals. We're going to go as long as we're feeling good. Right now we're 34, getting close to 35, and the bodies are still holding up great. So we'll keep doing loop-the-loops around the world."
They will do so despite increasing personal commitments. Bob and his wife, Michelle, had their first child in January, a daughter, Micaela, who is no stranger to tennis fans on Twitter (she has her own account). Mike is set to marry his longtime girlfriend, Lucille Williams, later this month in California.
"He calls me the test monkey," Bob Bryan said of Mike. "I've kind of been the test monkey for engagement, marriage and having the first child. He sees how happy I am, and now I think he wants to get on the same path."
The brothers, who long shared a house as well as a doubles court, now live and sometimes train on opposite coasts, with Bob based near Miami, in Sunny Isles, Florida, and Mike based in the twins' hometown of Camarillo, California.
But the brothers, who won their first title together at age 6, remain their sport's consummate team.
"They're used to coaching each other, so there's not a lot they need from me," said Jim Courier, the U.S. Davis Cup captain, after the Bryans improved their Cup record to 20-2 this year.
Occasional rubbing points do emerge, however. One of the latest: Bob accidentally put a nick in Mike's Olympic gold medal.
"He just freaked on me for like a week," Bob said. "Where I couldn't even talk to the guy. He was just so bitter about his medal. He's like, 'I'm going to have this for the rest of my life, and I'm going to have to look at this scratch that you put on it."'
The irony is that Bob's medal has been the one getting the most wear and tear. While Mike has often stored his in his safe at home, Bob has been traveling with his medal until this current European trip and estimates that 10,000 people have handled it — from the Cincinnati Reds manager Dusty Baker to fans in the stands after matches to hotel bellhops.
But Bob finally decided that he had heard enough from Mike.
"And so a couple of weeks ago in California, I brought my medal out from Florida, and I just gave it to him," Bob said. "And I said, 'Just take mine. I don't want to hear about this ever again.' And then he had a big smile on his face."
The medal swap did not last long, however. Bob said he accidentally ended up with his original medal again after a charity event last month. He still has it, at least for now.
"Mike still hasn't noticed the change," Bob said. "I'm waiting for the reaction when he does."