Bryans Triumph in Sydney Doubles Final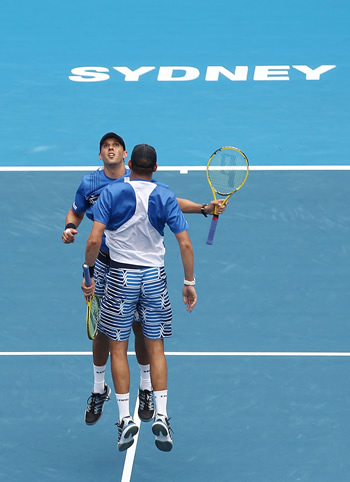 Top seeds Bob Bryan and Mike Bryan captured their 76th team title, defeating Matthew Ebden and Jarkko Nieminen
6-1, 6-4 in the Sydney final on Sunday.

The Bryans commanded the match from the beginning, opening with a 5-0 lead. They won 77% their points on
serve and did not face a break point. The World #1 pair converted three service breaks against their Australian
and Finnish opponents to seal the victory in just 53 minutes. The American twins are now two-time champions
at this tournament, having first lifted the trophy in 2009. They also finished runners-up in 2011, 2008 and 2004.
The Bryans will now head to the Australian Open, an event they've won five times in the past six years. Ebden
and Nieminen ousted #2 seeds Max Mirnyi and Daniel Nestor in the quarter-finals. Nieminen captured the singles
title earlier in the day, beating Frenchman Julien Benneteau, 6-2, 7-5.
Excerpted from ATP Staff report on atpworldtour.com; Jan. 14, 2012


Bryans' Banter
"First of all, congrats to Jarkko on a Herculean effort here in Sydney. Twelve matches in one week is no easy
feat," said Bob Bryan. "With that said, it's a nice feeling to get a title this early in the season. I thought we played
some great tennis and we hope to carry this momentum into Melbourne Park."

"Thanks to everyone for another great event. Sydney is a beautiful city and we always enjoy starting the year
here," Mike Bryan said. "We love this tourney and we think it's the perfect springboard into the year's first Grand
Slam. We're excited for Melbourne and the rest of 2012."

Fast Facts
*** Other wins for the Bros. this week included: Aisam Qureshi (Pakistan)-Jean Julien Roger (Netherlands Antilles), 7-5, 6-4; Leander Paes (India)-Radek Stepanek (Czech Republic), 7-6, 6-3; and Colin Fleming-Ross Hutchins (England), 6-4, 6-2.
*** On Dec. 12, the Bros. broke John McEnroe's record of being #1 in the world for the most weeks with 271. They are now at 276 weeks and counting.
*** Also in December they were again named the Fans Favorite Doubles Team - - - for the 7th time - - - every year they have had the award.
*** Mike proposed to his long time girlfriend from Wales, Lucille Williams on a beach in Kauai during sunset. Mike and the entire Bryan family are happy to report that Lucie said "Yes"! No firm plans as of yet but look for the wedding in California late this year.
*** Bob and Michelle and our friends and family are anxiously awaiting the arrival of their new little daughter, Micaela. She is slated to arrive in the world on Saturday, January 28th. And we say congrats to Michelle's sister, Diane, and her husband, Frank Rodriguez, on the birth of her cute little Nicole just last week.
*** Following the Australian Open, Mike will probably journey to Switzerland with the US Davis Cup Team, that might also include Mardy Fish, John Isner, and Sam Querrey, along with Captain and Hall of Famer, Jim Courier. Bob will stay home to be with Michelle and their brand new baby daughter.
*** On the weekend of Feb. 18th they will fly to Akron, Ohio to play an exo for the Victory Gallop charity event that benefits children afflicted with cancer. On the week of Feb. 27th, they are looking forward to playing Delray Beach, an event they have won twice. They will also peform with their Bryan Bros. Band there.
*** March events include the Desert Smash charity event at La Quinta (Ryan Macaulay), the Master Series Event at Indian Wells, the Doubles Pro Am at the Brickell Tennis Center in Miami (Trey 'n Erika Buchholz and Chris Jeffries), and the Masters Series Event at Key Biscayne.
*** Mike 'n Bob are fired up to play the US Claycourts once again at the venerable and picturesque River Oaks Country Club in Houston, April 9-15. TD Van Barry does an amazing
job with that tournament that the Bros. have won four times. Their Bryan Bros. Band will once again perform at their Thursday Night gala party along with their talented musical star pals, Jim Bogios of the Counting Crows, Michael Johns from American Idol, and grammy nominated singer/song writer James Slater.
*** Mike and Bob want to say mega congrats and well done to their close and long time pal, Kaley Cuoco, on her hosting of the People Choice Awards Show. Kaley knocked 'em dead as usual and she also has big dramatic role coming up with Rob Lowe. And her hit series the Big Bang Theory continues to be #1. Kaley was so nice to play in the celeb exo at the Malibu Slam Jam to raise funds for the Bryan Bros. Foundation last October. She was a nationally ranked junior and still plays very well.
*** Mark your calendar for Saturday Night, February 18th for a gala event at the University of California at Santa Barbara to raise funds for the deserving UCSB tennis teams. Coach Bryan will be roasted unmercifully by some heavy hitters that evening. And his band (John McCampbell, Andy Di, Jimmy Wolff, and Vance Beach) will also be performing. Tables for 8 are $1,200 and are getting close to selling out. 100% guarantee it will be a wild and crazy and fun night - - - and what a great cause!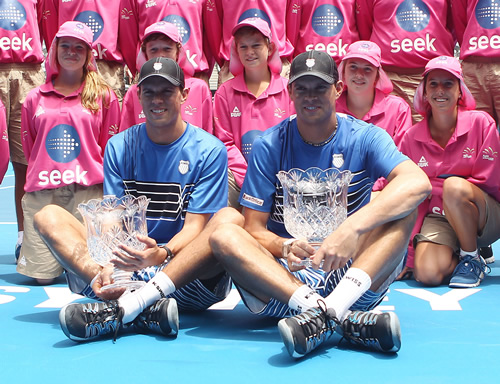 *** Wayne's former fabulous doubles partner and now famed Santa Barbara attorney
David Grokenberger is the driving force behind the SB event and he is being assisted
by fantastic and hard working UCSB Coaches Marty Davis and Pete Kirkwood, Hall of
Famer Marty Riessen, Ethel Byers, Teresa McWilliams, Jerry Hatchett, Clay Paul,
Ray Rockwell, and SB Tennis Patron Execs CathyAnn Simon and Elizabeth Winterhalter.
*** Both of the UCSB Tennis Teams will be introduced and Wayne's college roommates
and close friends and star athletes Mike Cobb and Jimmy Olson will be in attendance
and he hopes to have vocal performances by former UCSB Football Captain and later
coach, Mike Warren ("My Babe"), Hank Lloyd 'n the Dickies ("Surfin' USA"), former
USC All American and NCAA Champ, George Taylor ("Dock 'o the Bay"), and Cobb
("Battle of New Orleans"). Hatchett will be doing a dancing demo of the best moves
from the 60s. He is expecting lots of former CRC Members and tennis insiders and lots
of former Gauchos. For anyone who cannot afford the $150 a plate dinner, Groke will
pay for your seat.

*** Coach Bryan will be busy over the next month doing talks in Chicago and Detroit for
Prince and then emceeing the wonderful Blue-Grey Intercollegeiate Tournament in
picturesque Montgomery, Alabama. Special thanks to Gary Bodenmiller, Peg Connor
and Paul Winn for their help on these events.
*** We say welcome back to Ramey Osborne, as he returns as the owner of the Sacramento Caps. Great and enthusiastic guy and wants to win the WTT Championship and fill the stands at the same time. Hard working and dedicated Matt McEvoy will also be back as GM and Wayne will be coaching the team for his 11th season. He is hoping to have Mark Knowles back and most of the players from last year.
*** We are glad to welcome home Grandma Alice Bryan, who is doing just great after intestine surgery in Santa Maria. Grandpa Carl Bryan is also doing well and is happy to have Grandma back and both watched the finals and rooted like hell today as usual. We also send along our best wishes and support to our sister-in-law Shelley Bryan on her surgery this Monday up in Nevada City.
*** Mike 'n Bob had a large two page photo in the January issue of National Geographic. The magazine did a special feature on twins and they used a picture of the guys coming off the practice court at Wimbledon, side by side and seemingly joined at the hip.
*** Special thanks to the Bros. trainer, Gary Paul, who did such a great job with Mike's December workouts. Thanks also to players from USC, UCLA, UCSB, the University of Washington, and the Mark Weil Academy who did "two on ones" with Mike getting him ready for the Australian circuit.
*** Mike and Bob have dedicated their Sydney Title to Bob McCambell who passed away two weeks ago. Bob was a WW II hero and Mr. Tennis in Ventura County. An overflow crowd was on hand at the Camarillo Air Museum last Saturday to witness a beautiful memorial service handled so well by his sons, John, the pro at the Malibu Racquet Club, and Mark, the pro at the Oxnard Tennis Center.
*** The Bros. have donated funds to Terry Lynch and the VCJTA to purchase a perpetual trophy that will be called the Bob McCampbell Parent of the Year Award, to be presented annually by the VCJTA to the parent who best exemplifies the spirit of Bob and his support not only of his own children, but all the juniors in Ventura County through the years.
*** We send along our most heartfelt sympathy to the Rombeau family on their loss of Bill - - - a wonderful and kind and caring man who was a wonderful statesman for our sport. We also send along our condolences to his close friend Bob Kramer who worked side by side with Bill on so many SCTA and USTA tennis projects through the years.