Bryans Jam With Rock Legend In Indian Wells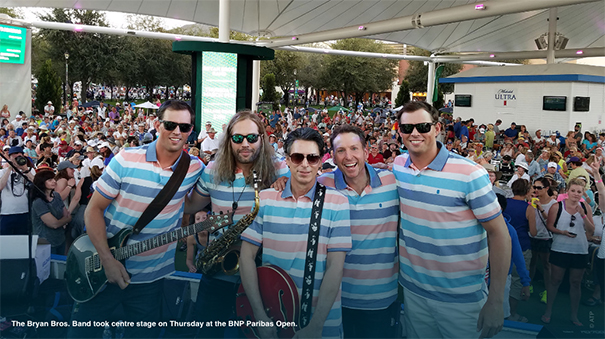 AP Two-time champions entertain off the court.
The Bryans rock.
Bob Bryan and Mike Bryan have been hitting the right chords for the past 18 years at the Indian Wells Tennis Garden and on Thursday they were on song with entertainment of a different kind.
Fans chanted "Here we go Bryans!" as the American twins rocked out with Counting Crows star percussionist Jim Bogios at the Village Stage. The winningest doubles team in history have demonstrated their musical talents over the years, forming the Bryan Bros. Band and performing with renowned recording artists. As throngs of fans filed in on a warm Thursday evening, the energy emanating from Bob on keyboard and Mike on guitar engulfed the plaza. And when actress Kaley Cuoco of The Big Bang Theory made a surprise appearance, the crowd erupted.
"We've known Jim for more than 10 years and for him to come off the tour with the Counting Crows, it makes everyone better and it really means a lot," said Mike. "To have the energy that Jim gives off and a backbeat that strong is pretty cool. It was another level.
"This gig is our Super Bowl. Just to see the crowd out there and that it was already packed before we started, shows that we're doing something right. They stayed for every song."
It marked the sixth straight year the Bryans have performed in Indian Wells. In addition to Bogios, they were joined on stage by Dan DeShara of San Francisco on guitar and vocals and George Holdcroft of Hollywood on sax, keyboard and vocals.
"Tennis comes a little more natural to us," Mike said, when asked to compare playing tennis in front of thousands of fans or playing a gig on stage. "You have to think a little more here. We do this once a year and you don't want to mess up. These guys make it look easy, but it's far from it. When you walk on the tennis court, it flows pretty naturally. This is improving though. It's getting better and better."
The Bryans open their quest for a third BNP Paribas Open title and 37th at the ATP World Tour Masters 1000 level against wild cards Nick Kyrgios and Nenad Zimonjic. Seeded second, they are bidding to extend their streak of one Masters 1000 crown in seven consecutive seasons.