Bryans Defend BNP Paribas Open Championship
Twins March Toward Historic Century Mark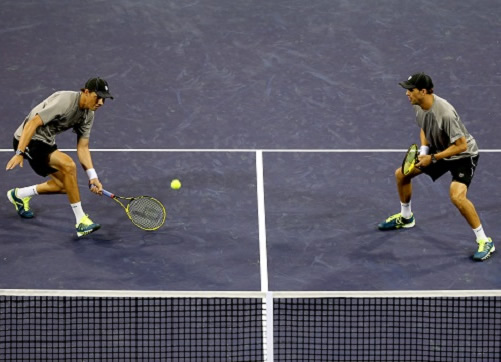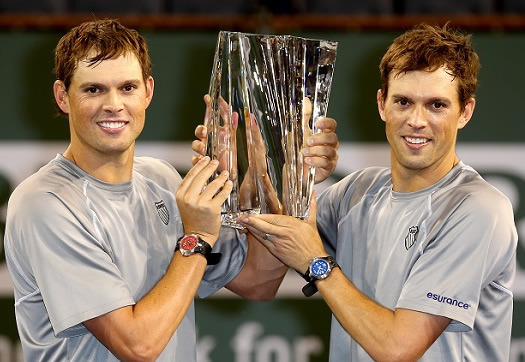 Following their 6-4, 6-1 win over the team of Roger Federer and Stanislaw Wawrinka in the semifinals of the BNP Paribas Masters 1000 at Indian Wells, CA, the world No. 2 doubles team of Alexander Peya and Bruno Soares faced Bob and Mike Bryan in the final hoping that momentum would carry them to the championship. Not surprisingly, however, the Bryans reasserted their commanding position as the world No. 1 doubles team, defeating Peya-Soares 6-4, 6-3, to raise their record to 7-1 against the Austrian-Brazilian duo.
Although it took 15 tries before the Bryans first prevailed in the desert in 2013, they now own a winning streak of 10 matches including a convincing semifinal win over their Davis Cup teammates John Isner and Sam Querrey, 6-7 (4), 6-1, 10-7, and a quarterfinal victory over Nicholas Mahut and Jo Wilfried Tsonga 7-6 (9), 7-6 (3).
By defending their championship, the Bryan Brothers earned their 95th title together. As the twins approach the milestone of 100 doubles championships, Mike, who has two doubles titles on his own, is only three titles from reaching the century mark—a feat never before achieved in men's tennis.
Already in the record books, the Bryans have passed Hall of Famers Mark Woodforde and Todd Woddbridge who held the previous record winning 61 tournaments together. Woodbridge and Daniel Nestor each have won a total of 83 titles with more than one partner.
"It was a great couple weeks for us and for the sport of doubles," said Bob. "We're excited to win our hometown ATP [World Tour] Masters 1000 and play so well against Bruno and Alex, who continue to put up great results."
Mike added, "The atmosphere tonight was fantastic as it has been all week for the doubles matches. Bruno and Alex have again proven why they deserve to be at the top of the game and tonight we had another high quality match."
The Indian Wells championship was the twins' 27th ATP World Tour Masters 1000 and follows back-to-back with their triumph in Delray Beach.
Indian Wells Wins:
def. Scott Lipsky (USA)-Florian Mayer (Germany), 6-1, 6-3.
def. Julien Benneteau-Edouard Roger Vasselin (France), 6-3, 6-2.
def. Nicolas Mahut-Jo-Wilfried Tsonga (France), 7-6 (9), 7-6 (3).
def. John Isner-Sam Querrey (USA), 6-7 (4), 6-1, 10-7.
def. Alex Peya (Austria)-Bruno Soares (Brazil), 6-4, 6-3.
Upcoming Schedule:
March 19-29 Key Biscayne, the Sony Open.
April 7-13 Houston, US Claycourt Championships at the picturesque and venerable River Oaks Country Club.
April 10 Houston, the Bryan Bros. Band performs at the gala River Oaks Tournament Party on Thursday Night from 9:00-11:00.
April 14-20 Monte Carlo, Masters Event.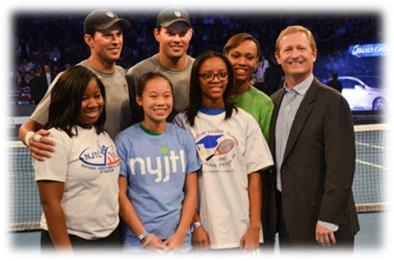 Recent Charity Events:
Feb. 28-March 1 Akron, Victory Gallup Charity Event with huge Junior Clinic, two Pro Ams, and an Exo against, Bobby Reynolds-Dennis Kudla. Sue Miller does an amazing job with this event and the Bros. and Wayne enjoyed going out to dinner with Dr. Nancy O'Dell - - - who made a generous donation to the Bryan Brothers Foundation - - - and Jen Bucheit. Both these gals played great tennis in the Pro Am!
March 3 New York, Mike 'n Bob played the McEnroe brothers at sold out Madison Square Garden celebrating World Tennis Day and benefitting USTA Serves. After the match, the Bryan Bros. donated $10,000 to four NJTL Programs in New York.
March 4 La Quinta, the Bros., after an late-night private jet flight from NY, once again played an Exo for Ryan Macaulay's incredible and sold out Desert Smash, benefitting various SoCal and Desert charities. They played Verdasco-Maarrero with Will Ferrell in the umpires chair.
March 6 Indian Wells, the Bryan Bros. Band, featuring former American Idol star, Michael Johns, Counting Crows drummer, Jim Bogios, and Hollywood singer/songer, George Holdcroft, performed for 2,500 at the Food Court Pavilion Stage from 5:00-7:00. Here is a short clip of the band rockin' Mustang Sally: http://www.youtube.com/watch?v=MeiQ1y_p8wE&feature=youtu.be Special thanks to John McCampbell and Jimmy Wolff for taking care of the all the musical equipment and joining with Wayne to do background vocals. Once again, Ryan Wolfington and his kids were also very helpful with the setup and take down. Thanks to DeeDee Felich for once again having the band play for the tournament's opening night. The Bryan Bros. Foundation donated $5,000 to Andrea Jaeger's Little Star Foundation that does such wonderful and heart and soul work with cancer stricken children.
March 16-18 Key Biscayne, the Bros. joined 16 of the top doubles players in the world for the Pro Am benefitting First Serve, Inc. Founded by generous benefactor, Chris Jeffries, Wayne emcees the event, while Trey and Erika MVP Buchholz are the driving forces behind the event. The Sunday Night Social is held at the Four Seasons and the tennis is played at Hall of Famer Cliff Drysdale's beautiful and well run Ritz Carlton Tennis Club. Host pro Mark Chopper Chellas was so very helpful and supportive of the event. What a great group of "Ams" for this event, including Peter Brual and Robb Bunnen, who are fantastic players and always so supportive of the Bryan Brothers Foundation and our work with deserving kids and kids programs. Washington Kastles owner and USTA Board Member, Mark Ein, also played sharp and was at the top of the heap, along with Peter and Robb after the Monday Round Robin format. Mark does so much for our sport each and every day. Rem Reynolds of Premier Tennis Travel was also very impressive on court and fun to have he and Trevor Short at the event.
Coach Bryan's 10 Week Roll:
Jan. 30-Feb. 2 San Diego, took 235 juniors, adults and coaches to the Davis Cup. Stayed and worked out early each morning at the beautiful and historic La Jolla Beach and Tennis Club. Ryan Wolfington did so, so much to make this weekend a mega winner, and super special thanks go out to Bill Kellogg for his generosity and wonderful support. CathyAnn Simon, Terry Lynch and Dave McKinney were also amazingly helpful, and our coaches were so dedicated and caring and fabulous: Ken DeHart, Morgan Shepherd, Steve Clark, Marty Hennessy, Hubie Stratman, John McCampbell, big Steve Johnson, Meelie Larkin, Trent Alenik, John Fruttero, Jeff Villano, and Joe Guglielmi. And USTA President Dave Haggerty took time out of his very busy schedule to come and speak to our juniors and be with our group! And it was so very nice of SCTA President, Greg Hickey, to come by along with new SCTA Executive Director, Bruce Hunt.
Feb. 7-11 Big Island of Hawaii, Coach Bryan was at the beautiful Fairmont Orchid Hotel doing a big Corporate Clinic with Hall of Famer Lindsay Davenport. Special thanks to Remington Reynolds and Trevor Short of Premier Tennis Travel for setting everything up and making it all go so smoothly.
Feb. 20-23 Montgomery, Coach Bryan emceed and did clinics at the fabulous Blue Gray National College Tournament. Besides speaking and entertaining at the Banquet, Wayne also worked with four college teams and did clinics for juniors and adults. Mega heartfelt congratulations to dynamic Paul Winn for heading up the event once again.
Feb. 27-March 2 Akron, emceed and did clinics at the Victory Gallup Charity Event.
March 6 Indian Wells, Bryan Bros. Band performance at the Food Court Stage at the BNP Paribas Open Tournament.
March 7 Rancho Las Palmas, adult clinic with Mike and Bob for Chadwick Byrd's Tour.
March 8 Palm Springs, ran a big junior clinic for Ryan Wolfington's Juniors from Nevada. Over 250 kids came in for a week at the tournament and Ryan Wolfington does wonderful work for kids in so, so many ways. He is a dynamo and represents the best of the human spirit.
March 5-14 Indian Wells,hosted my Tennis Talk Show at the Food Court Pavilion Stage each mid-day. What a great group of guests, including: Hall of Famers Billie Jean King and Chris Evert and Stan Smith, Andrea Jaeger, tournament founder and former tour star Ray Moore, Tournament Director Steve Simon, an all-star panel of journalists and authors - - - Richard Evans, Bill Simons, and Joel Drucker - - -, Tennis Channel VP and ATP Board Member, David Egdes, former tour stars Bob Lutz and Eddie Dibbs, and former South African Open and US Open Tournament Director, Owen Wilson. I sure enjoyed interviewing each and every one of these wonderful tennis people. Super thanks to DeeDee Felich, Brittany Trabert and Gigi Longhini for all their help and support with the Show.
March 16-18 Key Biscayne, emceed and ran the 9th Annual Pro Am with the top 16 doubles players in the world, including Mike, Bob, Bruno Soares, Alex Peya, Marcelo Melo, Aisam Qureshi, Rohan Bopanna, Juls Rojer, Horia Tecau, Treat Huey, Colin Fleming, Ross Hutchins, Mark Knowles, Dom Inglot, Davo MacPherson, and Nick Monroe.
March 29 Chevy Chase, will emcee and do the auction at Carole Dell's great Pet Connect Casino Night at the venerable Columbia Country Club. www.petconnectrescue.org. The tickets are $150 each and 100 per cent of the proceeds from tickets and the Live Auction goes to pet rescue efforts.
April 7-13 Houston, will emcee the United States Claycourt Championships at the beautiful River Oaks Country Club. Special thanks to Van Barry for the superb job he always does with that big time event.
April 10 River Oaks, Bryan Bros. Band will perform from 9:00-11:00.
For a hilarious clip of Mike 'n Bob talking about their famous and iconic Chest Bump click on the link below:
http://www.atpworldtour.com/Media/Video-Landing.aspx?/*/Tennis/Media/Videos/Uploaded/2014/3/18/ATP%20World%20Tour%20Uncovered%20Bryans%20Chest%20Bump#12%20-%20March%2020%202014%20(1)