Bryans Score Delray Beach Hat-Trick and #94 All-Time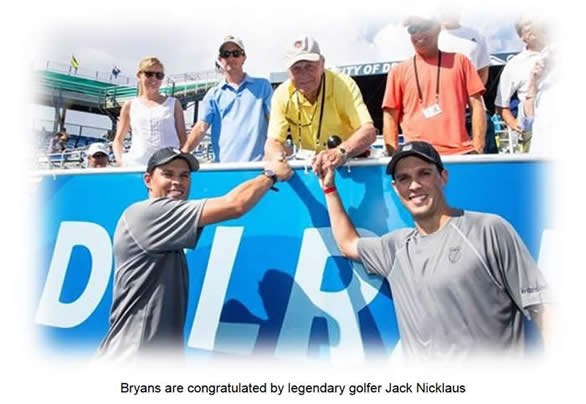 Top seeds Bob Bryan and Mike Bryan claimed a hat-trick of titles at the Delray Beach on Sunday as they defeated Frantisek Cermak and Mikhail Elgin 6-2, 6-3 in the final. The Bryans prevailed in 54 minutes, winning 77 percent of their service points and breaking their opponents three times.
The Americans were congratulated afterwards by legendary golfer Jack Nicklaus, a winner of 18 major trophies. The brothers added to the Delray Beach trophies they had lifted in 2009 (d. Melo/Sa) and 2010 (d. Marx/Zelenay).

"Jack Nicklaus is a good friend," said Mike Bryan. "He's been to watch us at Wimbledon a few times. He loves tennis. Bob won his celebrity charity tournament last year. He's a great, great guy to know. We're huge fans of his. It was good to see him in the front row."

The 35-year-old twins captured their 94th tour-level doubles crown together and first of the season. They finished runners-up last week in Memphis. The twins have a 94-49 record in finals.
"100 titles is our next big goal," saidBob. "We're very happy to kick start the year here in Delray. Get that first title of the season, get that confidence flowing and take it into the next couple of Masters 1000s. It's been a few years since we won the Miami tournament, so we want to put in a good showing there.
"We've always had good Australias; it's always been an incredible start of the year there. This was the first year we came back with nothing to show for our hard work in the off-season. Now it's starting to pay off a little bit, we're starting to hit our stride."
"We never thought we'd get this high," addedMike. "We always were shooting for the Woodies' number. Then when we finally hit 61 titles we took off. The pressure was released and we've had a couple of big years. Last year was the best year we've ever had with a record of 70-13, 11 titles, including three Grand Slams and 5 Masters Series Events. To hit triple digits and 100 would be very special."
By ATP Staff, Feb. 23, 2014
Fast Facts:
*** The Bros. lost only 12 games at Delray Beach this past week and their wins included: Adrian Mannarino (France)-Michael Russell (USA), 6-1, 6-3; Ryan Harrison-Jack Sock (USA), 6-2, 6-1; and FrantisekCermak (Czech Republic)-Mikhail Elgin (Russia)6-2, 6-3.
*** Last week Mike 'n Bob reached the Memphis Final with wins over: DavidO'Hare(Ireland)- JoeSalisbury(Great Britain), 6-4, 6-3; ChrisGuccione-LleytonHewitt(Australia), 6-3, 7-6(0); and SantiagoGonzalez(Mexico)-ScottLipsky(USA) 6-3, 6-7(2), 10-6.
*** Delray Beach was the Bros. 94th Doubles Championship, an all-time record. The Woodies are second with 61 titles, while the teams of Peter Fleming-John McEnroeand Bob Hewitt-Frew McMillan both have 57. Other top doubles teams through the years are Sergio Casal-Emilio Sanchezwith 44; Mark Knowles-Daniel Nestor40; Brian Gottfried-Raul Ramirez39; and Jacco Eltingh-Paul Haarhuis also at 39.
*** The Bryan Twins had a blast hanging with golf Hall of Famer and all-time great, Jack Nicklaus, before and after their matches in Delray Beach and will take Jack up on his offer to fly down to the Bahamas and go fishing on his huge boat after the Key Biscayne Tournament.
Charity Events in March:
*** Bob and Mike and Wayne will fly to Akron, Ohio, on Thursday to participate in the two day Victory Gallup Charity Event run there so well by Sue Miller and her staff. Info: http://victorygallop.org/fundraisers.html
*** They will then journey to New York to play the McEnroe Brothers in doubles on Monday Night at Madison Square Garden, while Andy Murray will take on Novak Djokovic in singles. For more info on that event: http://www.thegarden.com/sporting-events.html Mike, Bob, Novak and Andy will then hustle and fly out to Indian Wells, California late that night.
*** The Bros. will once again play an exhibition in Ryan Macaulay's great Desert Smash at La Quinta Resort the next day on Tuesday, March 4. For more details on this sensational star studded event: http://desertsmash.com/
*** Mike 'n Bob will join14 other doubles stars to compete in the 9th Annual Key Biscayne Pro Am, March 16-18, benefitting First Serve, Inc. The event will be held at the picturesque Ritz Carlton Courts with Coach Bryan serving as emcee and tournament director, while Trey and Erika the MVP Buchholz are the driving forces behind the event and charismatic Chris Jeffries is the generous benefactor and founder of the event. There are a few spots still open for "Ams" and contact Erika Buchholz @ (954) 609--‐2447 or E mail: erikabuchholz4@gmail.com if you would like to play.
Upcoming Tournaments:
*** Indian Wells, March 5-15.
*** Key Biscayne, March 20-29.
*** Houston, April 7-12.
Upcoming Bryan Bros. Band Performances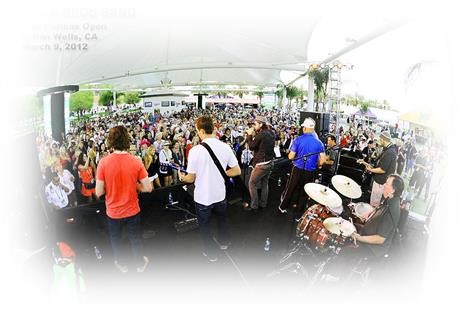 *** Indian Wells, Thursday, March 6, from 5:00-7:00 at the Food Court Stage. Besides Mike on lead guitar and Bob on piano and keyboard bass, the band will feature American Idol star Michael Johns, Counting Crows drummer Jim Bogios, and SoCal star musician and songwriter, George Holdcroft. Rumor has it that Maroon 5 guitarist and song writer, James Valentine, might also join in. Over 2,500 have turned out for this gig over the past three years.
*** Houston, Thursday, April 10, from 9:00-11:00, at the River Oaks Country Club gala party. 1,200 come out for this amazing and rockin' party.
Coach Bryan's Schedule:
*** The Bryan Brothers Foundation and Coach Wayne Bryan took some 235 juniors, coaches and adult chaperones to the Davis Cup in San Diego on the weekend of Jan. 31-Feb. 2. Some of the top coaches in the nation donated their time for early morning workouts at the picturesque and historic La Jolla Beach and Tennis Club through the kind courtesy of Bill Kellogg. Juniors from California, Nevada, Georgia, Florida and Oregon came in to work with: Steve Clark, Morgan Shepherd, Marty Hennessy, Ken DeHart, Dave McKinney, Hugh Stratman, big Steve Johnson, John McCampbell, John Fruttero, Jeff Villano, and Joe Guglielmi. Our wonderful LJBTC host pros were Conan Lorenzo and Amelia Larkin. Huge thanks to Ryan Wolfington who worked so hard to make this event so epic and memorable, and to Terry Lynch, Dave McKinney and CathyAnn Simon for all their substantial contributions.
*** From Feb. 7-11, Coach Bryan was at the beautiful Fairmont Orchid Hotel on the Big Island of Hawaiidoing a big Corporate Clinic with Hall of Famer Lindsay Davenport. Special thanks to Remington Reynolds and Trevor Short of Premier Tennis Travel for setting everything up and making it all go so smoothly.
*** Feb. 20-23, Coach Bryan emceed and did clinics at the fabulous Blue Gray National College Tournament. Besides speaking and entertaining at the Banquet, Wayne also worked with four college teams and did clinics for juniors and adults. Mega heartfelt congratulations to dynamic Paul Winn for heading up the event once again - - - just an amazing guy and he and his staff have massive community support for the visiting teams. And a big congrats to the rockin' Boise State Tennis Team who battled their way to the title for the second straight year. Greg Patton is one of the all-time great coaches and he is ably assisted by Luke Shields and what a team and what a gutsy performance once again. They came back twice, being down 0-3 to Clemson to win 4-3, with an amazing come from behind win by Garrett the G Patton in the #4 slot. And the next day they did it again, being down 0-2 to VCU to win 4-2. Now the Broncs are all the way up to #15 in the nation! Brendan McClain, from nearby Ventura and a terrific young man who worked out with Mike doing some 2 on 1 in December, was named the Tournament MVP, while future pro and #1 player Andy Bettles won the Sportsmanship Award.
*** Feb. 27-March 2, emcee and do clinics at the Victory Gallup Charity Event in Akron, Ohio. Thanks to Sue Miller for all she does on this fantastic event.
*** March 6, Bryan Bros. Band performance at the Food Court at the Indian Wells Tournament. 5:00-7:00.
*** March 6-14, Indian Wells, host my Show at the Food Court each mid-day.
*** March 16-18, emcee and run the 9th Annual Key Biscayne Pro Am with the top 16 doubles players in the world.
*** Help emcee and do the auction at Carole Dell's great PetConnect Casino Night on Saturday, March 29, at 7 pm at the venerable Columbia Country Club in Chevy Chase, MD. The tickets are $150 each and 100 per cent of the proceeds from tickets and the Live Auction goes to pet rescue efforts.www.petconnectrescue.org. The Live Auction is entitled "Life Is Suite" and the opportunities being auctioned are "Exclusive Experiences at Sports Events" including: 2 suite tickets to Donald and Carole Dell's Suite at the US Open; 2 suite tickets to former Redskin star Ray Schoeneke's Suite; 2 tickets to the Owners' Suite at the Washington Nationals; and 2 clubhouse passes at Tiger Woods' ATT National Golf Tournament at Congressional Country Club in Potomac, MD.
*** April 7-13, at Houston's picturesque and historic River Oaks Country Club, emcee the United States Claycourt Championships. Special thanks to Van Barry for the superb job he always does with that big time event.
*** April 10, Bryan Bros. Band performance at River Oaks from 9:00-11:00.