Bryans Win Davis Cup Doubles Match in San Diego Over the Brits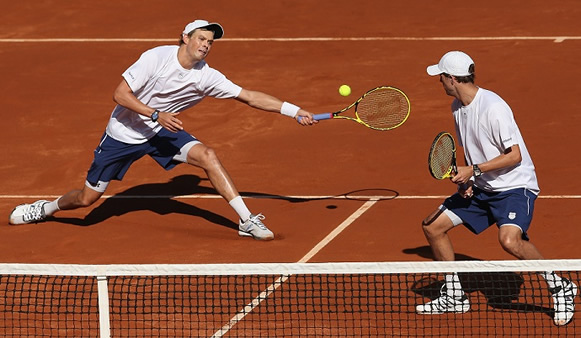 By Sandra Harwitt, Feb. 1, 2014
SAN DIEGO:The Bryan Brothers were back to their usual reliable form in securing the doubles point for Team USA against Great Britain in the Davis Cup first round tie this weekend.
Bob and Mike Bryan, taking to the court with the USA trailing 0-2, delivered the first point of their team with a 6-2, 6-3, 3-6, 6-1 win over the British Davis Cup duo of Colin Fleming and Dominic Inglot.
The Bryan Bros. have amassed an impressive winning Davis Cup record of 21-4. Bob has also won 4 Davis Cup singles matches. In helping the USA win the Davis Cup in 2007, they were undefeated during the year and they also won the clinching match again Russia in the finals in Portland, Oregon.
"We always get super fired up for Davis Cup and we were kind of coming out of our shoes. We did lots of extra practice this week and we were really itching to get on the court."
Andy Murray was initially named to play doubles with Fleming, but British captain Leon Smith decided to rest him for Sunday's reverse singles matches, putting Inglot into action in his Davis Cup debut match. Inglot reached the fourth round of doubles at the recent Australian Open.
"We thought it was best to rest Andy, especially when we had two very good doubles players to come in and play anyway," Smith said. "Obviously the Bryans played a good match today and got a win. Could have happened if Andy played as well. I think it was better to keep him for tomorrow."
In the first set, the Bryans lost only three points in four service games. In the second set, the Britons were able to hold serve three times, but at 3-4 and serving, Fleming lost serve. The first two sets of the one hour, 51 minute match took less than one hour to play.
The third set went the Britons way as they broke Bob Bryan's serve at 30-40 in the sixth game. But even though the Bryans lost the third set they never felt they were losing control of the match.
"All four sets I thought we played pretty solid," Bob Bryan said. "I knew if we just kept putting it on 'em we would get paid off."
The twins did rebound quickly in the fourth set, breaking Inglot's serve in the second and sixth games.
Despite the doubles loss on Saturday afternoon, the British team went on to win the overall match, 3-1, as James Ward beat Querrey in five sets last Friday, while Murray beat Donald Young in straight sets, and then Murray bested Querrey in four close sets on Sunday.
Fast Facts:

***Bob and Michelle had a new son, Bobby Blake Bryan Jr. on Christmas Eve, and their daughter Micaela (aka Bubs) celebrated her second birthday on Jan. 31.
*** The Bros.were proud to have been named the Fans Favorite Doubles Team for the 9th year in a row - - - every year they have had the award.

*** In January of 2014, the International Tennis Writers Association's (ITWA) voted the Bryan Brothers as Ambassadors of the Year. The award recognizes a combination of achievements on the court, conduct that shows tennis in the best possible light and co-operation with the media. ITWA represents the world¹s leading tennis journalists."Bob and Mike Bryan enjoyed one of their most successful years in 2013, winning three Grand Slam event titles and dominating the doubles scene like never before." Paul Newman, co-president of ITWA, said: "TheBryan Brothers both had excellent years on the court, but they have also been great ambassadors for tennis. Because of their success there are big media demands on their time and both have handled this with great professionalism. They set a very good example to their fellow players."

***Mike is playing doubles with Will Ferrell against Sam Querrey and Gavin Rossdale today in L.A. and there are sure to be some good laughs out there on that court.

***Mike and Lucie and Wayne and Kathy had a blast attending the Kaley Cuoco-Ryan Sweeting New Year's Eve Party and Wedding and Reception. Truly an amazing and fun filled night, Wayne told Kaley's Dad, Gary, that "Their wedding was the 8th Wonder of the World." Ryan, a tennis pro from the Bahamas, played for Coach Bryan's Caps Team during the WTT Season last July. And yes, Mike and Lucie introduced Ryan to Kaley following the WTT Season last July. The four of them had a tennis date and Ryan never left. Seven weeks later they were engaged and five months later they were married . . .

*** The Bryan Brothers Foundation and Coach Wayne Bryan took some 235 juniors, coaches and adult chaperones to the Davis Cup in San Diego on the weekend of Jan. 31-Feb. 2. Some of the top coaches in the nation donated their time for early morning workouts at the picturesque and historic La Jolla Beach and Tennis Club through the kind courtesy of Bill Kellogg. Juniors from California, Nevada, Georgia, Florida and Oregon came in to work with Steve Clark, Morgan Shepherd, Marty Hennessy, Ken DeHart, Dave McKinney, Conan Lorenzo, Hugh Stratman, big Steve Johnson, John McCampbell, John Fruttero, Amelia Larkin, Jeff Villano, and Joe Guglielmi. Then they hustled over to Petco Park to watch the exciting and rockin' Davis Cup Matches. Saturday's Doubles was packed and especially electric in the Stadium.

*** Heartfelt thanks toRyan Wolfington for his prodigious efforts that made the weekend Davis Cup Tripa winner. And big thanks toTerry Lynch of the VCJTA and Cathy Ann Simonof the SBTP for all they did for their juniors. Parents and adult chaperones like Dr. Allen, Lisa Levesque, Rem Reynolds, Peter Brual, Lonnie Nielson, Tim Warren, Roger 'n Janet Whitlock, Julie 'n Sharon Gaiser, Nelson 'n Tara Emery, and Liz French were all amazingly helpful.
***Wayne's all-time great pals like Mike Cobb, Jim Hess, Jim and Kathy Olson, Brian 'n Elisabeth Forbes, and Jerry Mosher kept him loose and laughing - - - as only they can - - - during the nerve racking and spine tingling Davis Cup Doubles last Saturday.Wayne stayed in his seat the whole time . . .

Coach Bryan Steps Down From the Sacramento Caps:
Coach Bryan has announced that he is stepping down as Coach of the Sacramento Caps after a 12 year stint that saw him named WTT Coach of the Year three times and having led the squad to the WTT Championshipin 2002 and 2007. He commented that "I have had the pleasure of working for four dedicated owners: Lonnie Nielson, Bob Cook, Ramey Osborne, and Deepal Wannakuwatte. I have also been fortunate to have some great players that gave me wonderful cooperation and fantastic play and I consider them all good friends - - - like Mark Knowles, Elena Likhovtseva, Brian MacPhie, Sam Querrey, Mardy Fish, Dmitry Tursunov, Anatasia Rodionova, Nicole Vaidisova, Anatasia Pavlyuchenkova, Vania King, Duce Vemic, Sam Warburg, Yasmin Schnack, Asia Muhammad, Brett Joelson, Ashley Harkelroad, Taylor Townsend, Megan Mouton Levy, Ryan Sweeting, Coco Vandeweghe, Eric Butorac, Michelle Larcher de Brito, and Riza Zalameda. I had my longest runs with Lonnie and Mark and we'll always remember the Championships we won together and the exciting wins we shared and the gut bustin' losses we consoled each other over. Special thanks and appreciation go out to the loyal and warm and enthusiastic Sacramento fans, staffs, ball kids, sponsors,and media. I will miss being with you in July each Summer . . . with humble thanks and appreciation, Wayne Bryan."

Mike 'n Bob's Schedule in the US Over the Next Few Months:
~ Memphis ATP Tournament next week, Feb. 10-16
~ Delray Beach ATP Tournament, Feb. 17-23;
~ Akron, Ohio - Victory Gallup Event, Feb. 28-March 1;
~New York to play the McEnroe Brothers in a gala exhibition in Madison Square Garden on Monday Night, March 3;
~ Indian Wells,a gala gig on Thursday, March 6, from 5:00-7:00 pm, with the Bryan Bros. Band, with Mike and Bob, and featuring American Idol star Michael Johns, Counting Crows drummerJim Bogios, and SoCal star musician and songwriter, George Holdcroft.
~Indian Wells ATP Tournament ,March 6-15.
~ Key Biscayne – Pro Am, March 16-18.
~ Key Biscayne ATP Tournament, March 20-29.
~Houston ATP Tournament at River Oaks CC, April 7-13.
~Houston, Bryan Bros. Band gig at the River Oaks CC,Thursday night, April 10.

Coach Bryan's Schedule For February and March:
***Coach Bryan will do a gala tennis clinic with Lindsay Davenport on the Big Island of Hawaii on Feb. 18th and then hustle over to Montgomery, Alabama to again emcee the fantastic Blue Gray College Tennis Classic, Feb. 20-23. The dynamic and charismatic Paul Winn heads up the event.

***Coach Bryan will then go to Akron to emcee the charity event for Victory Gallop that features Mike and Bob. Sue Miller is a great gal and does an amazing job with this event.
***Coach Bryan will again do his Show each midday at the Food Court at the Indian Wells Tournament. Some of his guests from last year included Billie Jean King, Jimmy Connors and Gladys Knight. Brittany Trabert and DeeDee Felich do a great job of helping Wayne line up guests for the Show.

*** And be sure to come out on Thursday, March 6, from 5:00-7:00 for the rockin'Bryan Bros. Band performance at the big Food Court Stage. Besides Mike, Bob and Wayne, the band features the famed drummer of the Counting Crows, Jim Bogios; former American Idol star ,Michael Johns,and SoCal musician, vocalist and song writer, George Holdcroft. John McCampbell and Jimmy Wolff will also perform.
***Coach Bryan will again emcee the Key Biscayne Pro Am featuring the top 16 doubles players in the world, March 16-18. The event is held at the beautiful Ritz Carltonand is headed up by Trey 'n Erika Buchholz, with Chris Jeffries as the driving force and benefactor behind the event.