Bryan Twins Are Redefining Family Bonds
By John Martin, NY Times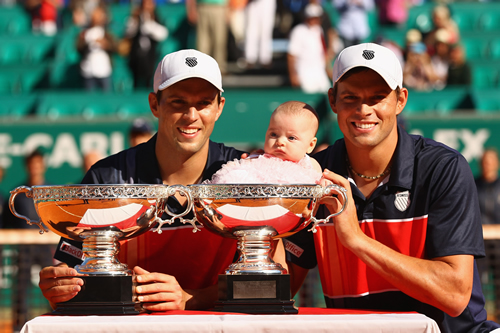 MELBOURNE, Australia — Bob Bryan had a secret and a routine to keep it from being
exposed as a playful fraud.
His daughter, Micaela, will be a year old on Jan. 31, yet Bryan insisted that she sends
Twitter messages to thousands of followers every few days.
"She does it all," he told a reporter who questioned his version of events. "She's got
a great little program on her iPhone."
Bryan said Micaela's tiny thumbs, not his, do the work. Her uncle, Mike Bryan, chuckled
and grinned. Bob Bryan held up a smart phone to show evidence of what he called
"drool on the microphone."
Behind their banter lies a realization. The Bryans are transforming their lives from
champion tennis twins on the tour to loving husbands and fathers on the tour.
Mike Bryan married his Welsh sweetheart in November and the two couples, Bob and
Michelle, and Mike and Lucille, have taken to the road together with Micaela.
Asked if he saw children in his future, Mike grinned: "Yeah, I want to get going. I mean, we're not youngsters anymore."
The Bryans are 34-year-old professional athletes who have earned more than $9 million in prize money, won 12 Grand Slam doubles titles, the most in the Open era. They see the 2016 Olympics in Rio de Janeiro as a target "for shutting it down," Bob Bryan saiid.
Meanwhile, they said, they hope to win "a couple" of more of the four major international championships and another Davis Cup title for the United States.
"Nothing's really changed," Bob Bryan said of their fascination with tennis.
On Sunday at the Australian Open, the top-seeded Bryans defeated Jeremy Chardy of France and Lukasz Kubot of Poland in three sets, 6-7 (4), 6-4, 6-3. The victory set up a quarterfinal match against unseeded Sergiy Stakhovsky of Ukraine and Mikhail Youzhny of Russia.
In an interview Friday, the Bryans discussed a series of changes in their lives, including Mike's marriage. A key event, he suggested, was Micaela's birth. He said he wanted "to give Micaela a niece and nephew, or cousin," chuckling at his unfamiliarity with family trees.
Asked how fatherhood had affected his life, Bob Bryan said: "Before, you're so wrapped up, tunnel vision, so much pressure on yourself, you think it's the end of the world, a win or a loss. When you lose a match, and you're devastated."
Now, he said: "You walk in and see a little baby smiling and doesn't seem to know that you play tennis, you kind of, yeah, it puts everything in perspective, and it's nice. It's great to have a loving family."
Mike Bryan added: "I don't really know that type of love yet. I love his daughter, but I'm sure it's a hundred times more if you have your own kid. But I love being uncle. It's fun traveling the world with our wives. It's a blast."
After 15 years on the tour, the Bryan twins are still together, redefining themselves as a family.