Bryans Defeat Rivals To Tie All-Time Team Titles Record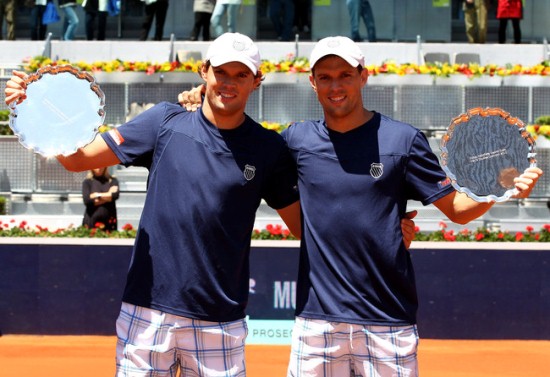 May 18, 2010 (Madrid, Spain) - Americans Bob Bryan and Mike Bryan captured a record-equaling 61st doubles title together Sunday as they defeated rivals Daniel Nestorand Nenad Zimonjic 6-3, 6-4 in the final of the Mutua Madrilena Madrid Open, an ATP World Tour Masters 1000 clay-court tennis tournament.

Appearing in their 99th tour-level doubles final, the Bryans tied Australians Todd Woodbridge and Mark Woodforde's Open Era record of team titles. Fifteen of their 61 titles have come at ATP World Tour Masters 1000 tournaments.

"There are a lot of opportunities out there to get that 62, but it would be more special at a Grand Slam," said Bob Bryan, with Roland Garros just a week away. "We're just really happy to win this one right now against such a great team; one of our rivals of the past three years. It feels awesome to share a record with the Woodies; those guys were our idols. We were lucky to grow up when they were at their best and we learned a lot from them; they played a beautiful game of doubles. To be mentioned in the same sentence as those guys is everything to us. It's what makes number 61 so special."
"The Woodies were fantastic," concurred Mike Bryan. "They have a lot of records. It's nice to share one with them. But you can't compare it; we're totally different teams. They played a beautiful brand of doubles, as Bob said. They didn't have the big serves, but they were so smart out there. We've learned a lot of things from them about poaching. They had a better finals record; when they got to a finals match they usually won it. They were clutch players. They're great guys too; fantastic players and even better guys off the court."

By virtue of earning 1000 ATP World Tour Doubles Ranking points as winners, the Bryans will also move back to No. 1 in the ATP Doubles Team Rankings on Monday. They were crowned ATP World Tour Champions last year as they finished atop the ATP Doubles Team Rankings for the fifth time after victory at the Barclays ATP World Tour Finals in London. They have also been voted the "ATP Fan Favorite Doubles Team" for the past 5 years in a row - - - every year that they have had the award.

It is the second time this season that the top two teams have clashed, with the Bryans also triumphing in the Australian Open final at the start of the year to win their eighth Grand Slam title.

It is the fifth tour-level title that the Bryans have won this season (a perfect 5-0 finals record) and their second straight success on clay. Now riding an eight match win streak, two weeks ago they won an all-American final against John Isner and Sam Querrey to lift the trophy at the Italian Open in Rome, adding to their successes earlier in the season in Houston (also on clay) and Delray Beach (on hard court).

In a strong-serving performance from the Americans, they were not broken throughout the 55-minute clash, with Nestor and Zimonjic not able to make many returns. The 32-year-old twins broke in the sixth game of the first set as they secured a one-set lead and established an early lead in the second set by breaking serve to lead 3-1.

The top-seeded Nestor and Zimonjic engineered their only three break points of the clash in the eighth game of the second set, but Bob Bryan saved all three on his serve to hold for 5-3 and Mike Bryan then produced a love service game to seal victory.

The Bryans were contesting their fourth Madrid final and lifted the trophy for the third time, having previously triumphed in 2006 (d. Knowles-Nestor) and 2007 (d. Fyrstenberg-Matkowski). Excerpted from ATPTennis.Com.
The Road To 61 Titles
| | | | |
| --- | --- | --- | --- |
| YEAR | Match (W-L) | Titles (W-L) | Year-by-Year Highlights |
| | | | |
| 2010 | 27-6 | 5-0 | Capture 61st career title in Madrid; Won 4th Aust. Open title (8th overall G.S. crown) |
| 2009 | 68-18 | 7-5 | Finish No. 1 for fifth time in seven years; Won Aust. Open, Barclays ATP Finals |
| 2008 | 64-18 | 5-7 | Won US Open title; bronze medal at Beijing Olympics |
| 2007 | 77-9 | 11-4 | Led US to David Cup title; Won five ATP Masters 1000 titles; Won Aust. Open title and career-best 11 titles overall (77 wins) |
| 2006 | 66-14 | 7-3 | Won 1st Aust. Open title, Wimbledon; R-up at Roland Garros |
| 2005 | 55-18 | 5-6 | Reached all four G.S. finals, won first US Open title; Finished No. 1 for second time |
| 2004 | 64-17 | 7-4 | Defended Tennis Masters Cup title; R-up at Aust. Open |
| 2003 | 53-21 | 5-3 | Won first G.S. title at Roland Garros, first Tennis Masters Cup; No. 1 for first time |
| 2002 | 54-19 | 5-3 | Won first ATP Masters 1000 title in Memphis (d. Knowles-Nestor) |
| 2001 | 47-24 | 4-1 | Won first ATP title in Memphis (d. former Stanford alumni O'Brien-Stark) |
| 2000 | 18-17 | 0-0 | |
| 1999 | 15-15 | 0-1 | Reached first ATP final in Orlando (l. to Courier-Woodbridge) |
| 1998 | 4-6 | 0-0 | |
| 1997 | 1-7 | 0-0 | |
| 1996 | 1-4 | 0-0 | |
| 1995 | 0-1 | 0-0 | |
Career Matches Won & Lost: 617-214

Career Titles/Finalists: 61/38

Titles by Surface: Hard 38, Clay 13, Grass 7, Carpet 3

Top 5 Doubles Team Title Leaders No.

1) Bob Bryan - Mike Bryan 61
Todd Woodbridge - Mark Woodforde 61
3) Peter Fleming - John McEnroe 57
Bob Hewitt - Frew McMillan 57
5) Sergio Casal - Emilio Sanchez 44
Fast Facts:
*** The Bros. are taking an early flight out today to get to Dusseldorf to compete in the ATP World Team Championships with teammates Sam Querreyand John Isner.

*** Wins for Mike 'n Bob this past week in Madrid included: Benjamin Becker (Germany)-Marco Chiudinelli (Switzerland), 6-1, 7-6; Mariusz Fyrstenberg-Marcin Matkowski (Poland), 6-3, 6-4; Marcel Granollers (Spain)-Viktor Toicki (Serbia), 6-0, 4-6, 10-2; and Daniel Nestor (Canada)-Nenad Zimonjic (Serbia), 6-3, 6-4.

*** Mike and Bob sure appreciated the raucous support of several family members this past week. Helping them win the title were Uncle John Bryan, and cousins Carl Bryan and Bryan Gerhart. Former tour doubles star and the great coach of the UC Santa Barbara tennis team, Marty Davis and his lovely wife, Jill, and their son were there in Madrid rooting the guys on as well.

*** The twins are getting great comments on their sharp K-Swiss tennis outfits. The K-Swiss shoes are super comfortable and other companies are starting to copy their fabulous design in men's shorts. Special thanks to Erik the big E Vervloet and personable Ivette Ramos and the rest of this creative company for all their special help and support.

*** The Bros. also want to thank their hard working and great coach, David MacPherson, for all the scouting and game plan prep and work with them on the court each day. He is not only their coach but also a great pal. While Mike and Bob are good friends of Laker Coach Phil Jackson and are hugeLaker fans, Davo loves those Phoenix Suns. Who plays in the NBA Western Division finals starting tonight? Yeah, Lakers vs. Suns.

*** The Tennis Channel carried the Madrid Doubles final and did their usual wonderful job. We all feel that the TC is the best force we have for tennis in the United States. We say thanks and well done to Ken Solomon and David Egdes. And commentator and former tour doubles star, Robbie Koenigreally knows doubles and the players and he gives viewers interesting insights and background info.

*** Coach Bryan once again enjoyed emceeing the classy and fun Beverly Hills Invitational on Sunday. For the first time in the 15 year history of the event, host Geoff Palmer combined with former UCLA #1, Eric Taino, to win the Championship. Palmer's Mansion is stunning and the party after the event was off the charts, while Taino is a long time competitor and friend of Mike and Bob's. Another UCLA star and tour player and coach, Tony Graham, was a finalist and served as tournament director. Other tennis stars in attendance were Brian Teacher, Jeff Tarango, Wade McGuire, John Letts, Nels Van Patten, Doug Adler, Kent Seton, Lev Shvarts, and Gene Malin, and rock star Gavin Rossdale reached the semis, while comedian Jon Lovitz also enjoyed the day. Lovitz has played in many of the Bros. charity exos and Rossdale said he hopes to come up to hit with the guys and play some music the next time they are in town. Tennis producer and director extraordinaire, Harold Hecht and his wife, Tiffany, and his three cute as can be children were there and enjoying the beautiful grounds and all the activities.

*** Coach B travels to Chicago later this week to do several clinics and talks at the beautiful Ontwensia Country Club. Dynamic head pro, Rod Workman, will keep him busy and even is bringing in some top local musicians to join Wayne in a rockin' gig after the banquet on Saturday Night.

*** Mike 'n Bob also would like to thank Prince for all their steadfast support. Since switching to their "favorite playing racket of all time", the Prince EXO3 Ignite Team 95s, the twins have won 6 of their last 12 tournaments. Prince execs George Napier and John Embree have been 100% behind the guys and promo director Zach Perles has written to say there is a great new Bryan Bros. Prince Poster coming out to commemorate the Bros. new doubles record.

*** The Bryans are helping host the Groovin' in the Grove for Gracie at the Camarillo Oak Grove Park, on Saturday, May 29, from 3:00 to dusk. Gracie Garcia, a long time employee at the Cabrillo Racquet Club, needs funds for a liver treatment. Several of the top SoCal bands, including the Estrada Brothers and the Wayne Bryan Band, along with famed singer Rosemary Butler, will perform. The response has been overwhelming and the the park will be packed for this gala event.

*** A long time friend of the Bryans and a great supporter of Mike and Bob, Bob McCampbell just had heart surgery and will be returning home soon. We all wish Bob a speedy recovery.

*** Coach B hosted a Croquet War & BBQ last Saturday. Top three finishers were Wayne Bryan-John McCampbell, Andy Di-Jimmy Wolff, and Tom Bruno-Gary Cuoco. Cuoco complained long and hard that he "nicked the stick" at the raucous and caustic and exciting finish. Cuoco's talented daughter, Kaley, is the star of the hugely popular series the Big Bang Theory. Kaley, a much better sport than her dad, besides being a great and oh so funny actress, is a very fine tennis player, horseback rider, and drummer and is very close with the Bros. and the entire Bryan family and grew up taking tennis lessons from Kathy. She has played many charity tennis exos with Mike and Bob.

*** Thanks for your support!